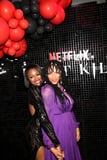 Netflix's hotly anticipated queer-vampire romance "First Kill" debuted on Netflix on June 10, and if you've seen it, you might already be crushing on the cast. The show follows teen vampire slayer Imani Lewis and vampire Sarah Catherine Hook as they embark on a very complicated romance – there's that little issue of the fact that they're supposed to kill each other. Their families, which entrenched in their roles as proud vampire hunters and equally proud supernatural blood-suckers, don't help.
"First Kill" features relative newcomers like Hook along with familiar actors, including Elizabeth Mitchell from "Lost." You might know Imani Lewis from "Eighth Grade" and "Hightown" and Dylan McNamara from "Euphoria." If you're looking to get to know the actors better or to check out their thoughts on "First Kill," their social media profiles are a great place to start – and we've gathered them all here.
Here's where you can follow the cast of "First Kill" on Instagram and Twitter.