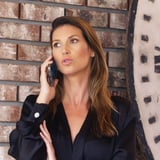 One of the Oppenheim Group's original realtors is exiting "Selling Sunset" ahead of season six. In a new interview with Page Six, Maya Vander confirmed that season five of the Netflix reality show was her last – at least for now. "I decided to not execute my contract," she said. "I love the show, and it was great, but I'm excited to focus on the Miami real-estate market."
At the end of season five of "Selling Sunset," the Oppenheim Group staff threw a party for Vander, who was planning to more permanently relocate from Los Angeles to Miami. The wife and mother had been bicoastal for a few years, but with the birth of her third child on the horizon, she decided it would be best to settle in Miami with her family. However, in December 2021, Vander revealed on Instagram that the baby was stillborn at 38 weeks. Six months later, she shared with fans via her Instagram Story that she had subsequently had a miscarriage. "I had a very crazy week," she wrote on her IG Story on June 21, per Page Six. "Miscarriage after 10 weeks…following my stillbirth…but my kids and my husband are absolutely my blessing and I am so lucky to be their mother!"
Vander had been with the O Group for years and was one of Jason and Brett Oppenheim's most reliable realtors (she even closed on a $12-million-plus house at the end of season five). She moved to LA in the early 2000s from Israel to start a new life for herself, but her relationship with her husband eventually took her to Miami. By that time, however, Vander had built up her career and seemingly didn't want to leave it behind. When Netflix started filming "Selling Sunset," she and her husband had just relocated to Miami, she told the New York Post in January. Vander ended up flying back and forth from LA to Miami to film and keep up her business in California.
Now that she's in Miami more permanently, she set up her own luxury real -state business, the Maya Vander Group. "My business in Miami is really doing well. I started my own team here. I have a few girls that work with me. And the market in Miami is great," Vander told the Post.
According to Us Weekly, Vander's real-estate license has officially been transferred from the Oppenheim Group to Compass, which her company will be operating under. A source told the outlet that Vander's decision to leave "Selling Sunset" wasn't an easy one. Vander "loves the show, and it's definitely hard to let go," they said.
In addition to focusing on her business, Vander is also eager to spend more time with her children. "I want to focus on my family, and flying coast to coast is a lot," she told Page Six. "The show is great, and I love everyone – but looking forward to growing my business in South Florida."
– Additional reporting by Sabienna Bowman.