Despite social media rumours that claim Armie Hammer is a concierge at Morritt's Resort in Grand Cayman, Variety has confirmed this is untrue.
The claims spread on Twitter after a producer on Desus & Mero revealed the actor was a personal concierge for her friend's parents who had been holidaying in the Cayman Islands. The now-deleted tweet was accompanied with a photo of a supposed pamphlet.
It said: "I am your personal concierge and am here to help you get the very best from your vacation… Regards, Armie."
The flyer also claimed Hammer could provide a free orientation of the Grand Cayman island, and that he would take guests, "swimming with wild turtles, [to] the best snorkelling and diving spots" and places which had, "reasonable prices for bioluminescence and fishing trips."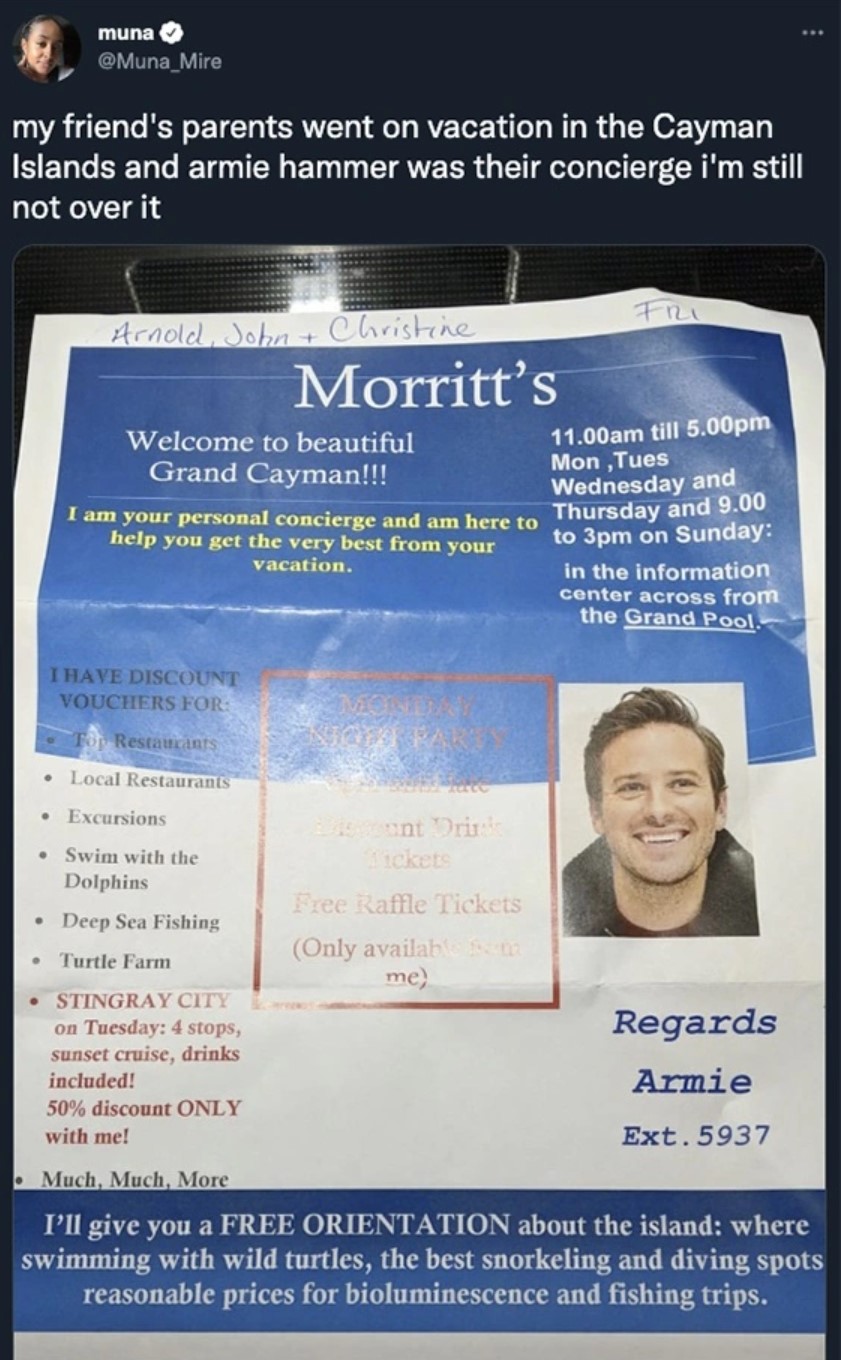 READ MORE: British TV presenter's husband hospitalised after 374-day COVID-19 battle
Variety confirmed with staff from the hotel that Armie has never worked at Morritt's, rather the rumour has been spun out of a prank.
Hammer frequents the hotel regularly, and even made friends with members of the hotel staff. An employee from Morritt's confirmed to Variety that other staff members tried to play a prank on the actor by depositing the pamphlet in a few rooms across the resort. 
Hammer previously starred in The Social Network and Death on the Nile.
In January 2021 he was accused of sending disturbing messages to various women by an anonymous Instagram account. The messages contained references to cannibalism, violence, and rape, and some women who claimed to have been in relationships with Hammer allege he branded them, gave them PTSD, and subjected them to emotional abuse.
READ MORE: Jennifer Aniston's act of kindness to intern after security guard interaction
While the Hotel Mumbai actor denies all claims, he has dropped out of a series of projects and lost significant roles in movies like Billion Dollar Spy and Taika Waititi's Next Goal Wins. 
Hammer had been laying low in the Caymans since allegations surfaced and was largely forgotten until this incident.
For a daily dose of 9Honey, subscribe to our newsletter here