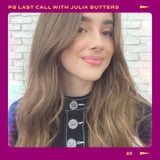 In our Q&A series Last Call, we get down to the bottom of every last thing with some of our favorite celebs – from the last time they were starstruck to the last song they listened to. This week, Julia Butters takes our call.
Like many other soon-to-be eighth graders, Julia Butters loves Olivia Rodrigo and enjoys the books she reads for English class. But unlike most kids her age, the 13-year-old has worked alongside Leonardo DiCaprio, Steven Spielberg, and, recently, the stacked cast of "The Gray Man," which includes Ryan Gosling, Chris Evans, and Regé-Jean Page.
Though it can be tricky, she tries to keep things in perspective. "I get starstruck, but I really try to play it cool," she says of working with such massive stars. "Once I get to know the person, it's a lot easier to not freak out around them constantly because I realize that they're just regular people doing their job, and I really respect them for that."
Butters has been anticipating the release of Netflix's megabudget spy flick, which premiered in theaters on July 15 and hits Netflix on July 22, for a long time. "I'm so incredibly excited," she says. "I've been waiting for this to happen and for this to come out since I found out I got the part, and ever since then, I've been dreaming about the moment I could see it on the big screen." Butters is at the center of the story as Claire Fitzroy, a young orphan with a heart condition, and she spends most of her time on screen alongside Gosling and Billy Bob Thornton, who plays her uncle.
Filming, which took place during the pandemic, was "a very magical experience," she says. "It was a safe spot where I was getting tested regularly. I felt very secure, and they made me feel very welcome and safe on set." Butters loved the process – her favorite part of the experience was "waking up in the morning" in Long Beach, CA, with a day of shooting ahead of her. "I really just loved the prep and, of course, being on set," she says, "but I really liked looking forward to each day. With COVID, it was hard to have something to look forward to."
Previously, Butters shared the screen with DiCaprio in Quentin Tarantino's "Once Upon a Time in Hollywood," delivering a scene-stealing performance as a confident, wise-beyond-her-years young actor. Next up, she's set to star in "The Fabelmans," a semiautobiographical film about Spielberg's upbringing, where she plays Anne Fabelman, Spielberg's sister. "It's a family movie, so it really felt like a family," she says. "I'm still friends with all the kids that played my siblings, and I talk to them regularly. I really made some lifelong bonds, and I will cherish that experience in my heart for forever."
Working with Spielberg on a movie about his real life, she shared, was a singular, slightly nerve-racking experience. "When we were on set, he was about keeping us present in the emotions," she says. "He did talk a little bit about certain stories from filming, and oh, my gosh, I was so not aware of myself because I was so focused on perfecting the lines."
"Once I get to know the person, it's a lot easier to not freak out around them constantly because I realize that they're just regular people doing their job, and I really respect them for that."
Despite her onscreen experience, she was understandably "a little nervous, but [he] made it so enjoyable, and so I didn't feel stressed," Butters adds. "I just felt very self-conscious. He definitely made sure that we were happy . . . and felt safe and comfortable and were having fun. I thought that was really unique about him."
In the future, the actor hopes to continue telling stories about real people's lives and dreams of starring in a biopic. "I think playing someone that has actually lived, like Audrey Hepburn . . . [or like] Renée Zellweger did with 'Judy,'" she says, "would be an interesting challenge."
With so many major movies under her belt at such a young age, she's well on her way. Keep reading to see what else Butters has to say about being starstruck, writing music, being a middle schooler, and more.
When was the last time you were starstruck?
I was at an Olivia Rodrigo concert, and I was just crying almost the whole time because I was in such disbelief that I was so close to her, because I idolize her.
What's the last movie that you watched?
"A Star Is Born" with Lady Gaga and Bradley Cooper. I cried my face off, and it was great. The talent is unreal. It was a really, really good movie. I watched it for the first time, actually.
What's the last book you read?
"The Outsiders." My school had me read it this year, and I will gladly say that it changed my life for the better, so thank you to seventh-grade English for blessing me.
What was the last song you listened to?
Probably something by Alanis Morissette. I think it was the song "Unsent." I love the storytelling elements. She's a genius.
What's the last photo on your phone?
My cat lounging on the side of my mom's bed, just looking so cute in the sun.
What's the last thing you did for self-care?
I write a lot – stories, songs, scripts – and I think what helps about writing songs is that it gives me a chance to translate my feelings into something beautiful and to organize my thoughts, because growing up is really messy. I think it gives me a good chance to kind of figure out what's going on in my mind and put it into words. It's something I really enjoy doing.
What's the last trip you went on?
I went to Nebraska to go surprise my grandparents, because we had to cancel Christmas over there . . . because omicron was going crazy in December. I loved seeing my family and my cousins and playing dress-up with my grandma's old, old clothes from the '50s.
What's the last gift you received?
A cupcake from my teacher because I graduated. [We had a] late graduation celebration yesterday, and she gave me a cupcake that was delicious. It might have said something like "congrats" on it, but I ate it too quickly to really notice it. I was like, "Ooh, cupcake," and then just wolfed it down.
What's the last piece of advice you received that changed your life?
My mom says this all the time, and I always say it's super cheesy, [but I] live by it. She always tells me to live life one day at a time, because if you put yourself into the future and catastrophize things, you'll be set up for disappointment, and that's just not a good way to look at life. So I live life one day at a time, take it minute by minute, and try to enjoy what's going on in the moment.