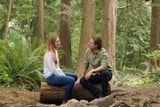 Viewers have, once again, gotten whisked off to the cozy town of "Virgin River" in season four of the hit Netflix show, which hit the streamer on July 20. Following its cliffhanger ending, fans eagerly await a word on its follow-up installment. Luckily, after the release of season three in July 2021, the series landed a coveted two-season renewal, so season five is well on its way.
Filled with quintessential community camaraderie, heartwarming gestures, intense drama, and shocking reveals, season four of "Virgin River" delivers yet another strong batch of episodes, only with higher stakes this time around. Based on the bestselling book series of the same name by Robyn Carr, the story centers on Melinda "Mel" Monroe (Alexandra Breckenridge), an accomplished midwife and nurse practitioner who relocates to a far-flung small town while battling personal demons from her traumatic past. However, to her surprise, her life takes a sweet turn once she acclimates to the friendly townsfolk.
Now that the 12-part season four has finally graced our screens, fans are excitedly looking forward to another round of the comforting drama. From the possible release timeline to plot details, keep reading for all the updates we have on "Virgin River" season five so far.