Beloved Aussie star Olivia Newton-John touched so many hearts during her life – and her impact is evident in the tributes that have flooded social media since it was announced she died this morning following a 30-year battle with breast cancer.
"[She] passed away peacefully at her Ranch in Southern California this morning, surrounded by family and friends," a statement posted to her Facebook read. "We ask that everyone please respect the family's privacy during this very difficult time."
GALLERY: Olivia Newton-John: Her extraordinary life remembered
https://www.facebook.com/plugins/post.php?href=https%3A%2F%2Fwww.facebook.com%2Folivianewtonjohn%2Fposts%2Fpfbid0G8HA6NM3od3k81eeTVFDfY1HPrmv3SpHL8h67hn5BJ81CrxvMHc2VKAvCacb5Aswl&show_text=true&width=500
Upon hearing the news, fans shared their heartbreak on social media, as did many of Newton-John's famous friends, with her Grease co-star John Travolta and pop star Kylie Minogue leading the way.
"My dearest Olivia, you made all of our lives so much better," Travolta wrote on Instagram. "Your impact was incredible. I love you so much. We will see you down the road and we will all be together again. Yours from the first moment I saw you and forever! Your Danny, your John!"
READ MORE: John Travolta's touching tribute to Olivia
https://www.instagram.com/p/ChAtHO1psCS/?igshid=YmMyMTA2M2Y%3D
Minogue shared a sweet throwback photo with Newton-John while revealing how much she looked up to the Hollywood star.
"Since I was ten years old, I have loved and looked up to Olivia Newton John. And, I always will. (Just like this picture @nfsaonline)," Minogue tweeted.
"She was, and always will be, an inspiration to me in so many, many ways. My deepest condolences to her family and loved ones. x ONJ4EVER."
https://twitter.com/kylieminogue/status/1556766799848423426
Aussie singer and actress Delta Goodrem – who portrayed the iconic star in the 2018 biopic Olivia Newton-John: Hopelessly Devoted to You – shared her heartbreak on Instagram. 
"The whole world will feel this heartbreak today because the entire world felt Olivia's unmatched light," Goodrem wrote. "A force for good. A force of nature. Strong and kind. my mentor, my friend, my inspiration, someone who always guided me… she was always there for me."
"Family to me. I don't have all the words I would like to say today but I hope everyone will join in celebrating our beloved Olivia, her heart, soul, talent, courage, grace… I love you forever ❤️."
https://www.instagram.com/p/ChA2VU4P0mF/?igshid=YmMyMTA2M2Y%3D
In his tribute, Hugh Jackman revealed he used to kiss a poster featuring Newton-John every night before bed.
"I'm devastated to hear the news that @therealonj has passed away," he wrote on Instagram. "One of the great privileges of my life was getting to know her. Not only was she one of the most talented people I've known … she was one of the most open hearted, generous and funny. She was a one of kind spirit."
READ MORE: Olivia Newton-John's daughter Chloe Lattanzi shares tribute after her death
"It's no secret Olivia was my first crush. I kissed her (poster) every night before bed," he revealed. "Her legacy will only grow stronger in the years to come. A fighter for healing from cancer that knows no bounds. I love you Olivia."
https://www.instagram.com/p/ChBABUTPf-S/?igshid=NDBlY2NjN2I%3D
Newton-John's son-in-law, James Driskill, who is married to her daughter Chloe Lattanzi, also paid tribute as he vowed to look after Chloe now that she's lost her mum.
"I am so lucky and grateful that I had the opportunity to learn from such an amazing woman," he wrote on Instagram.
"You led an extraordinary life and touched so many. You taught me about grace and gratitude, love and light. You were always so generous and kind and I'm filled with joy thinking about spending the rest of my life with your beautiful daughter who also teaches me daily about how to be a more compassionate and forgiving man. Goodbye mama. I love you. I'll take care of our weasel."
https://www.instagram.com/p/ChA7xodvmR3/?igshid=YmMyMTA2M2Y%3D
Singer and actress Barbra Streisand also mourned the death of her dear friend.
"Too young to leave this world. May she RIP. 😢🙏🏻," the veteran wrote on Instagram.
READ MORE: Friend Richard Wilkins reacts to news of Olivia Newton-John's death
https://www.instagram.com/p/ChArKlmjhK1/?utm_source=ig_embed&ig_rid=ec46c7ae-198c-48a7-acdf-02ee5e8874c0
Aussie actress Rebel Wilson shared some heartfelt words on Instagram Stories.
"You were a true icon and I absolutely adored you," she wrote.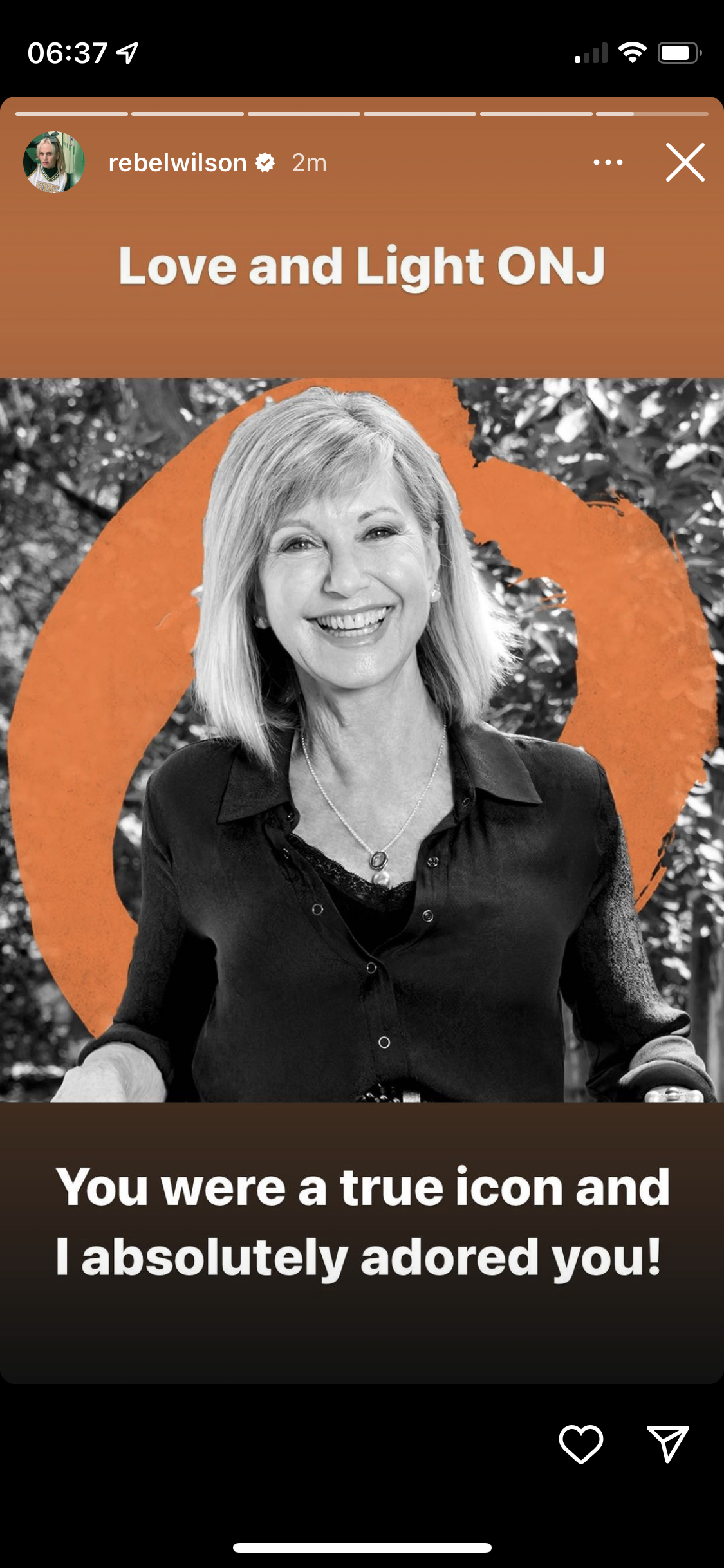 Bindi Irwin also paid tribute, sharing a photo of herself and the actress at a fundraiser.
"One of the kindest and most wonderful souls the world has ever known," Irwin tweeted.
https://twitter.com/BindiIrwin/status/1556752307970519040
Singer Richard Marx shared a slideshow of throwback photos as he honoured his good friend.
"My heart is broken. Rest now, sweet friend," he tweeted. "You were as kind and loving a person as there's ever been. I'll miss you every day."
https://twitter.com/richardmarx/status/1556721486630506497?ref_src=twsrc%5Etfw%7Ctwcamp%5Etweetembed%7Ctwterm%5E1556721486630506497%7Ctwgr%5E1a0e3084107073fd026ea87811a6b8ca3eebdb2c%7Ctwcon%5Es1_&ref_url=https%3A%2F%2Fwww.abc.net.au%2Fnews%2F2022-08-09%2Folivia-newton-john-dead-live-blog%2F101313244
Today Extra co-host David Campbell couldn't believe the news, as he retweeted a Los Angeles Times article.
"Oh no. This is devastating news," he wrote.
https://twitter.com/davidcampbell73/status/1556734812760981504?s=21&t=a7LHZPYZ4jGFwgHC8aosIA
Entertainment journalist Sam Rubin also paid his respects.
"My first crush and everyone else's too. I absolutely loved Olivia Newton John," he tweeted. "She appeared on our program many times….and in real life she was even better. A heartbreak here. A deeply courageous woman who was so truly admired the world over.
https://twitter.com/samontv/status/1556725143296102400?s=21&t=a7LHZPYZ4jGFwgHC8aosIA
Star Trek Legend George Takei was also among the first to praise the Grease star for her life and contribution.
"We have lost a great, iconic artist in Olivia Newton John, gone too soon from us at age 73," Takei tweeted. "I trust she is now in the great Xanadu beyond. Know that we are forever hopelessly devoted to you, Olivia. Rest in song and mirth."
https://twitter.com/GeorgeTakei/status/1556728666234978305
Actress Gabrielle Union raved about how much of a fan she was.
"'Grease' is my #1 movie of all time and made me a lifelong Olivia Newton John fan," she revealed in her tweet. "Me and my sister watched Xanadu more times than I could count. Sending so much love and prayers to a real gift of a woman and talent."
https://twitter.com/itsgabrielleu/status/1556731499373727744
Comedian Kathy Griffin shared a fun memory she made with the beloved actress over afternoon tea with Carson Kressley.
"Olivia Newton-John rolled with EVERYTHING," she said of the clip in which Newton-John was a good sport.
https://twitter.com/kathygriffin/status/1556733675026276352?s=20&t=gtOMiWXgFSt7VBSQj0DIoQ
Former Australian Prime Minister Kevin Rudd also expressed his condolences on Twitter.
"This is really sad news. Really sad. A great Australian woman. And a great advocate for global cancer research," he tweeted. "Taken from her family far too early. Vale Olivia."
https://twitter.com/MrKRudd/status/1556732664425717760?s=20&t=gtOMiWXgFSt7VBSQj0DIoQ
British chef Nigella Lawson also paid her respects.
"Her memory is already a blessing," she tweeted.
https://twitter.com/nigella_lawson/status/1556735553571360769?s=21&t=DAmvE7s3SUm6kMkiJcsMKg
Savage Garden singer Darren Hayes shared some beautiful words to mark her passing.
"Oh dear, sweet, magical, eternal Olivia. You gave so much to this world and to this little boy who saw acceptance in your twinkling eyes and glittering world," he tweeted.
"You made us all feel held by the sweetness of your voice and the capacity of your heart. I hope you are in Xanadu.
https://twitter.com/darrenhayes/status/1556767175611908096
Here are more tributes from Hollywood and beyond:
https://www.instagram.com/tv/ChA7UtMJUEN/?igshid=YmMyMTA2M2Y%3Dhttps://www.instagram.com/p/ChA90dvIPW_/?igshid=YmMyMTA2M2Y%3Dhttps://www.instagram.com/p/ChAyUGtPOp5/?hl=en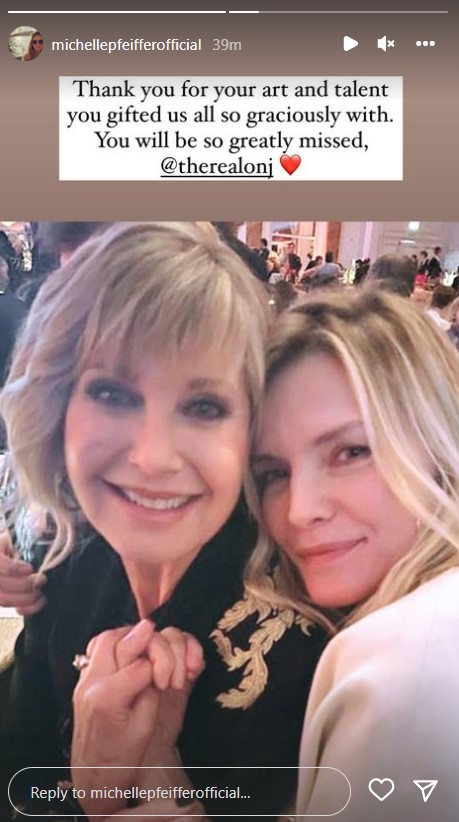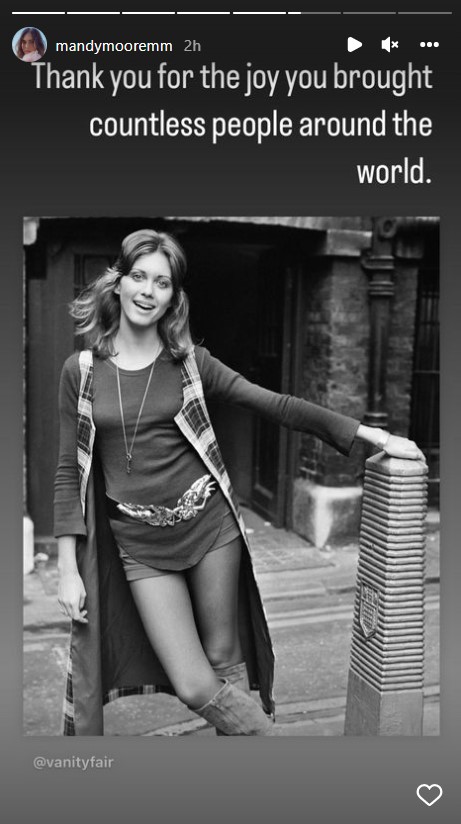 https://twitter.com/MarleeMatlin/status/1556732085544529920?ref_src=twsrc%5Egoogle%7Ctwcamp%5Eserp%7Ctwgr%5Etweethttps://twitter.com/mariolopezviva/status/1556735047570296832?ref_src=twsrc%5Egoogle%7Ctwcamp%5Eserp%7Ctwgr%5Etweethttps://www.instagram.com/p/ChArK7Spq1S/?hl=enhttps://twitter.com/dionnewarwick/status/1556732713536614400?ref_src=twsrc%5Egoogle%7Ctwcamp%5Eserp%7Ctwgr%5Etweethttps://twitter.com/KChenoweth/status/1556740411317690370?ref_src=twsrc%5Egoogle%7Ctwcamp%5Eserp%7Ctwgr%5Etweethttps://twitter.com/JamesGunn/status/1556729984412028929https://twitter.com/RealLyndaCarter/status/1556754535342919692?ref_src=twsrc%5Egoogle%7Ctwcamp%5Eserp%7Ctwgr%5Etweet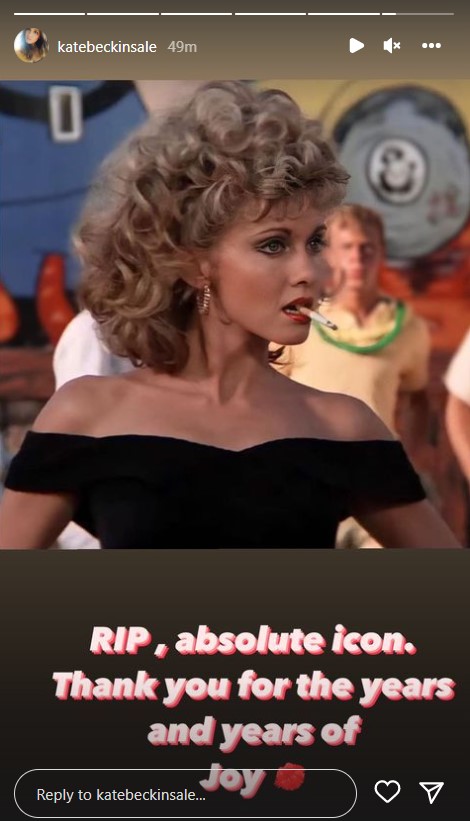 For a daily dose of 9Honey, subscribe to our newsletter here.