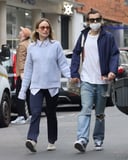 You know what's really difficult about trying to figure out who Harry Styles has dated? The fact that he never openly admits it, and that's totally his prerogative. The list of people he's been linked to is long, and likely a lot of it is far from accurate (except for his romances with Taylor Swift and Camille Rowe – those we know are true) or just pure speculation based on song lyrics.
It seems like every person he's ever pictured with is his rumored new flame, including the wives and girlfriends of his friends. Currently, Styles is dating Olivia Wilde. The two met on the set of "Don't Worry Darling" back in September 2020 after Styles replaced Shia LaBeouf in the project. Wilde directed the film, which also stars Florence Pugh and is set to debut on Sept. 23.
For a closer look and a completely noncomprehensive list of women Styles has supposedly dated, keep reading. But also keep in mind that pretty much everything regarding Styles's dating life is a bit up in the air because he clearly wants it that way – despite how curious his fans are.
– Additional reporting by Xavier Piedra