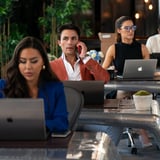 The "Selling Sunset" franchise is expanding to a new city with fresh faces, stunning real estate, and, of course, more drama in Netflix's "Selling the OC." The extension of The Oppenheim Group's successful flagship series (going on its sixth season) premiered on Aug. 24 and sets roots in California's Orange County (specifically, Newport Beach). Despite sharing a home state, the "Selling the OC" cast – which includes Alex Hall, Alexandra Jarvis, Alexandra Rose, Austin Victoria, Brandi Marshall, Gio Helou, Kayla Cardona, Lauren Brito, Polly Brindle, Sean Palmieri, Tyler Stanaland, and Lauren Shortt – and "Selling Sunset" stars/brokers Jason and Brett Oppenheim tell POPSUGAR that their new show is nothing like its predecessor.
"Orange County itself [is] like a whole different vibe than LA."
"[We're different] pretty much in every way," says Jarvis. "I mean, it's entirely new people. New personalities, totally different dynamic . . . We have a lot of newer agents, too. A lot of us are learning the ropes and it's exciting." Helou adds: "Orange County itself [is] like a whole different vibe than LA."
According to Jason, talks of another "Selling Sunset" spinoff – which follows after "Selling Tampa" – didn't begin until after The Oppenheim Group's Newport Beach office opened up. Six months after hiring new agents, Netflix expressed interest in jumpstarting another show under the "Selling Sunset" umbrella. "I think they liked the idea that it was different than 'Selling Sunset' . . . A really young and vibrant and dynamic group," says Jason. And thus, "Selling the OC" was born.
"We're an entertaining group, for sure."
Aside from the obvious additions of male brokers to the "Selling Sunset" franchise, "Selling the OC" introduces a younger cast in its first season, all eager to bring something new to the series. "I think with 'Selling Sunset,' most people knew each other going into the show because they'd worked together for a really long time," Hall says. "Only a couple of us knew each other prior to filming. Jason had just opened his office in Newport, so we were all new agents and just getting to know each other as we have cameras in our faces. It's been a wild, wild ride." Victoria echoed his costar's sentiments saying, "I think Alex sums it up well, but you definitely see the discovery of personalities amongst us, both personally and professionally. We're an entertaining group, for sure."
Though the cast argues otherwise, "Selling the OC" does share a commonality with the other "Selling Sunset" shows: dramatic feuds among the agents. Hall admits she and her costars "don't all have to like each other" on the show, but they do "try to get along most of the time." And make no mistake about it, Shortt confirms the drama on the show is very real. "There's a bunch of different, big personalities, and whether we're filming or not, the way we feel doesn't change," she adds. "We'll have to see what happens in the future. But a majority of us do really feel like family and get along very, very well. But we'll have to see about the rest."
"[There's] a lot of organic drama, so it's going to be very entertaining."
Brett is excited to see the young cast take the new series by the horns. He believes their "lack of experience in youth allows them to be even more free," aka "they were made for TV." "You never know when you get a group of people together what's going to happen, and if they're going to be entertaining, professional, successful in real estate, you never really know," he says. "[But] I'm really happy, and my brother's really happy [with 'Selling the OC'] as well."
Prior to the show's premiere, the "Selling the OC" cast remained tightlipped about specific details regarding the show's plot. But for those who haven't tuned in yet, Jarvis assures us that there's "a lot of organic drama, so it's going to be very entertaining." Even Cardona says the "Selling the OC" crew captured enough content for one season halfway through filming. Still not sold yet? Helou says viewers should at least check out the show to "see some of the most beautiful homes in the world."
Season one of "Selling the OC" is now streaming on Netflix.