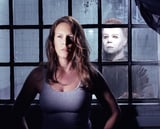 If you're confused about the Halloween franchise, you're not alone. So far, there have been 12 films, including two remakes, one film that doesn't include any characters from the rest of the installments, and three films that are totally ignored in the events of subsequent chapters. The 12th movie, "Halloween Kills," was released in 2021, and the next, "Halloween Ends," will premiere on Oct. 14. "Halloween Ends" will mark original scream queen Jamie Lee Curtis's last stand against Michael Myers, the killer who has been terrorizing her across seven movies.
Though you're sure to be terrified (just check out the trailer), we doubt anyone but Halloween superfans actually know how the whole series plays out. To get you ready for the last installment of Halloween, here's a recap of all of the films, as well as some key clarifying details about the series. Some of these movies are terrifying, some are ridiculous, and only some feature Curtis and Myers, but we promise that every Halloween installment is definitely entertaining.
How Many Halloween Movies Are There?
There are 13 Halloween movies in total, including remakes and the not-yet-released "Halloween Ends."
Halloween Movies in Chronological Order
It's difficult to list the Halloween movies in definitive chronological order, but here's what we know for sure: The first Halloween movie is the 1978 original, "Halloween," which introduces leading characters Laurie Strode and Michael Myers. "Halloween II" follows, then "Halloween 4: The Return of Michael Myers." Next comes "Halloween 5: The Revenge of Michael Myers," then "Halloween: The Curse of Michael Myers," and "Halloween H20: 20 Years Later." After that is "Halloween: Resurrection." "Halloween Kills" directly follows, and "Halloween Ends" marks the H40 trilogy's conclusion.
The chronology is complicated by Rob Zombie's two remakes, "Halloween" and "Halloween II," which take place in a separate timeline from the aforementioned movies. Finally, "Halloween III: Season of the Witch" – the franchise's solo attempt at making a Halloween anthology series – takes place in a different universe and doesn't connect to the rest of the franchise at all, so it also doesn't fit into the timeline.
Ahead, take a closer look at all the Halloween movies over the years in order of theatrical release.
– Additional reporting by Kalyn Womack