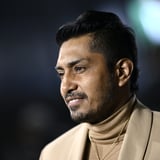 Tenoch Huerta plays primary antagonist Namor in "Black Panther: Wakanda Forever." In the Marvel comics, Namor hails from an underwater kingdom later called Talokan, whose inhabitants have a vested distaste for the aboveground world. Director Ryan Coogler said the underwater kingdom is "deeply inspired by Mesoamerican cultures, specifically from the Yucatán and the Mayan postclassic period," per The New York Times.
"He's got really unique features and things that don't necessarily go together," Coogler told Entertainment Weekly of Namor. "He can breathe underwater, obviously, but he's got these little wings on his ankles. He's got pointy ears and walks around in his underwear. It's all fun, man."
Huerta hails from Mexico, where he's had great cinematic success, though "Wakanda Forever" marks his biggest venture yet into American film. "I come from the hood. Seriously. And thanks to inclusion, I'm here," he said in an appearance at San Diego Comic-Con in July, per Deadline. "I wouldn't be here without inclusion and a lot of kids are here in their hoods looking at us, dreaming to be here. And they [can] make it."
In a Nov. 8 interview with Digital Spy, Huerta, who has Nahua and Purépecha Indigenous ancestry, elaborated on his character's significance, saying that the character's Mayan roots meant a lot to him. "[I]t was a fantastic move and I think now is the perfect moment to speak about it," he said. He continued, "In Latin America, especially Mexico, we deny our Indigenous roots. It's just like a token sometimes. In general terms, we deny it because it's not about genes for us, because almost everybody in Mexico has Indigenous or African roots – it's about culture." He continued that he hopes "this helps people embrace who they are . . . They taught us to be ashamed of who we are, but it's time to cut it off and say: 'Yeah, this is who I am and I never had anything wrong with me.' . . . The mistake was in the eyes who were looking at us, who were judging us . . . "
Here's more information about Huerta.