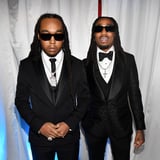 Just one day after Takeoff's funeral in Atlanta on Nov. 11, his uncle and bandmate Quavo as well as Cardi B shared tributes to the late rapper on Instagram. The 28-year-old rapper – born Kirsnick Khari Ball – was shot and killed at a bowling alley in Houston on Nov. 1.
On Nov. 12, Quavo posted a tribute to his nephew, celebrating their bond and mourning the Atlanta rapper's death. "It's so hard to tell you I'ma miss you because you always with me and we did everything together," he wrote. "Since we were kids you been by my side, lookin up at me, them eyes waiting on me to make the next move.. then you followed up right behind me."
Quavo's message goes on to note that Takeoff knew he wanted to be a rapper before his uncle did. "Throughout this whole time he had a REAL passion for music," his message reads. "It was his dream to become a rapper because I didn't kno what I wanted to do." He added that his nephew "never worried about titles, credits, or what man got the most shine" as long as they "brought it back home to the family."
The Migos member also mused about how he and Takeoff always struggled to define their relationship. "This whole time I've been trying to figure out what you really are to me because nephew wasn't it," he added. "We hated that word 'nephew' or when they said "Unc and Phew" cuz we always knew we were way closer than that and it made me feel old too." At 31, Quavo was only a few years older than Takeoff.
"But I knew you weren't my brother cuz you are my sister's son, so I couldn't say brother," he continued. "Now I finally get it…You are OUR angel. Watching me and watching us this whole time in living form making sure EVERYONE FELT Your LOVE AND HUGS while u here and u made our dreams come true."
Cardi B also joined Quavo in sharing a tribute on Instagram. The "WAP" rapper wrote in part, "Takeoff your untimely passing has brought a great deal of pain and sorrow to so many lives. The impact you had in this world was so considerable and we have struggled to grasp this tragedy. I am heartbroken but I am grateful for all the precious memories we got to share while you were here with us."
In addition to sharing emotional tributes to Takeoff, Quavo and Cardi B were also two of several artists to attend the young rapper's celebration of life service in Atlanta. According to a press release obtained by POPSUGAR, Quavo and Offset both gave speeches at the service. Meanwhile, Justin Bieber, Yolanda Adams, Byron Cage, and Chlöe Bailey all performed in memory of Takeoff. Additional guests included Drake, Gucci Mane, CeeLo Green, Lil Yachty, and Teyana Taylor.
His official obituary read in part, "There are no words or sentiments conveyed that could aptly encompass the love so many had for him and the impact he made on this world. Takeoff would want the world to see the light in what he created and keep lifting each other up and supporting the creations people put into the world. He's now up with there with the stars he loved so much and remains in all our ethers on a daily basis living on through his music and the love he brought to so many."
In lieu of flowers, Takeoff's family asked that donations be made to The Rocket Foundation, a nonprofit that was founded in the rapper's honor to prevent gun violence.