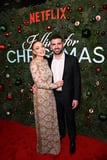 Lindsay Lohan is in her comeback era, and longtime fans couldn't be happier to see her return to the big screen in Netflix's latest holiday movie, "Falling For Christmas." The beloved rom-com genre helped launch the "Mean Girls" actor to stardom in the 1990s and 2000s, but by the end of the decade and well into the 2010s, Lohan took a hiatus from acting, retreated from the spotlight, and kept her personal life private.
In 2014, she moved to Dubai, a place that she referred to as a "sacred space" in an interview with Who What Wear in November 2022. "I could do my own thing, and nobody bothered me," she revealed to the publication. While living in Dubai, Lohan met her now-husband Bader Shammas, the assistant vice president of Credit Sussie, a global investment bank. While it is unknown exactly when the two started dating, they were first linked together in February 2020 when Lohan shared a photo on Instagram calling Shammas her boyfriend, though she deleted the post shortly after.
In November 2021, however, Lohan announced her engagement to Shammas on social media, and the two wed later in 2022. Speaking to Cosmopolitan in October 2022, Lohan raved about her husband, saying, "I have an amazing husband, who's a very calm person."
While Lohan and Shammas are very private about their personal lives, there are still a handful of sweet moments that they have shared with the public over the years. Here's a complete timeline of their relationship.