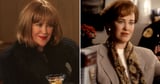 Moira Rose: woman of the world, connoisseur of wigs, and a force of her own. Since 2015, the "Schitt's Creek" star has solidified her presence as one of the wildest and most wonderful characters to grace our screens. But there's an uncanny similarity between Moira and Catherine O'Hara's character, Kate McCallister, in "Home Alone" (1990) and "Home Alone 2: Lost in New York"(1992) that has us doing double-takes.
For anyone who needs a refresher on the classic holiday films, O'Hara plays Kevin McCallister's (Macaulay Culkin) mom, who infamously forgets – along with her husband, Peter McCallister, and their other four kids – to bring Kevin on the family's annual Christmas vacation, twice. Frazzled, overwhelmed, and prone to panicked shouting fits, Kate is just a mom trying to make it through the holidays and make sure her 8-year-old son is safe.
Moira is more self-indulgent and deeply in touch with her flare for the dramatic on a daily basis (see: her elaborate outfits and her overly sophisticated speech pattern). But O'Hara's unforgettable facial expressions and Moira's hilarious personality definitely overlap with Kate's enough that we're convinced Moira could be Kate 30 years in the future. Just replace every time Kate yells "Kevin!" with Moira saying "David" or "bébé" and it's like they're basically in the same timeline.
Ahead, we've collected every bit of evidence that proves Moira and Kate are one and the same – or, at least that they'd make great friends. Read on for a full breakdown of all the moments in "Home Alone" that prove Kate foreshadowed Moira three decades prior.