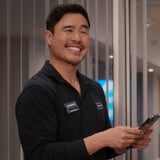 Blockbuster didn't survive the streamers, and neither did the show about the last Blockbuster on the planet. Netflix's "Blockbuster" has been canceled after one season, Deadline reported on Dec. 16.
But just like his character Timmy, star Randall Park was hoping to keep "Blockbuster" alive. Season one of the Netflix show, which premiered Nov. 3, leaves a few things hanging, including the status of Timmy's relationship with his employee and longtime crush Eliza (Melissa Fumero). The pair spend a lot of the season looking longingly at each other while staunchly refusing to admit their true feelings. "I'm rooting for Timmy and Eliza," Park told POPSUGAR in a November interview. "I'm very invested in them. My hope is that we'll see some of these things come to fruition, if we do get another season or two."
Unfortunately, fans will never get to know if Timmy and Eliza will finally confess their very obvious love for each other. Overall, the actors – from Park and Fumero to Olga Merediz as lonely Connie and Tyler Alvarez as aspiring filmmaker Carlos – are the heart and soul of "Blockbuster" and the best part of the show, which struggled in other areas. Throughout the season, their characters offer each other community and camaraderie through various ups and downs. "All of the characters, to me, are . . . fun and they're funny, but there's a grounded kind of thing about each of them that makes them very relatable and fun to play," Park said. "There's a lot of heart behind what they're going through."
The in-person component of the old-school video-store experience is one thing that was lost when Blockbuster fell to the streaming services, so it makes sense that the show focuses on community. "I do long for the simplicity of those times," Park said, recalling the Blockbuster days of yore. "And as Timmy says, the human interaction that comes with that. Talking to the clerk at the store, getting recommendations, giving recommendations, all of those things in real time – I think it's fun. And it's something that we don't have anymore, unfortunately."
Off screen, Park developed a community of his own with the "Blockbuster" team, whom he hoped to work with again. "I hope the show keeps going because I have such a great time with this cast and crew," he said. "They're just such amazing people. Just on a personal level of wanting to enjoy my life, I really hope I get to work with all of them again." In a second season, he said, he hoped to see "Blockbuster thriving." As for Timmy and Eliza, he was also hoping that the stars would align. "Timing has a lot to do with it," he said when asked why Timmy and Eliza have such a hard time getting together. "Life is complicated, and we all have our different commitments and we want to do good on those commitments, and sometimes those commitments keep us from other great possibilities." he added. "But you know that they would work."
Although "Blockbuster" is no more, not all hope is lost for the once-beloved video-store chain. The show is actually based on the real world's last Blockbuster, located in Bend, OR, which is still going strong.
"Blockbuster" season one is now streaming on Netflix.