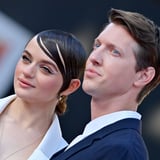 Image Source: Getty / Axelle / Bauer-Griffin
Joey King is home for the holidays. But instead of telling her fiancé, Steven Piet, in advance, she decided to surprise him. The "Kissing Booth" actor shared his reaction and the couple's subsequent reunion in a sweet Instagram gallery on Dec. 22. "I surprised Steven after a month apart, and idk man, these photos make my eyes wet," she wrote in her caption. "Happy holidays everybody." In the pictures, King walks towards a clearly stunned Piet, who's left staring with his mouth open and arms held out in disbelief. King laughs at his astonishment and the two share a tight embrace, the final snap capturing Piet's look of pure adoration.
Piet and King initially met on the set of "The Act," in which King starred as Gypsy Rose Blanchard and Piet worked as a producer. According to a June 27 appearance on "Jimmy Kimmel Live," King finally found the courage to express her interest in Piet after the series ended, and luckily, it was reciprocated. "To my delight, he was interested as well! And so now we're getting married," she said on the show.
The pair got engaged on their three-year anniversary in February 2022. King said of her engagement, "The date was 2/2/22 when you asked me to marry you and made me the luckiest lady alive. I love you more than an Instagram caption could ever do justice. Hanging out with you forever sounds like a real dream, so let's do it." While the two have yet to share details of a wedding, it looks as though they're still finding ways to keep each other on their toes, and enjoying all the time they can spend together. See Piet's sweet reaction to King's unexpected holiday homecoming above.