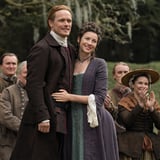 Droughtlander isn't over yet, sassenachs, but on Dec. 23, Starz served up a preview of what's ahead in season seven of "Outlander" to tide fans over until the summer. The first teaser for the new season promises all of the romance, action, and prophetic dreams viewers have come to expect from the series. This time around, it's Jamie dreaming of the future – which could be a warning of what's to come for him and Claire.
In the teaser, Jamie tells Claire that he dreamed they were surrounded by an unnatural light. "I had another dream," he says. "There was a light around ye. But it wasn't candlelight, nor firelight. I thought, now that must be what electric light is like."
Viewers will no doubt remember that Brianna and Roger previously discovered via a newspaper clipping that the star-crossed lovers reportedly die in a fire. It's possible Jamie's dream could point to that eventuality, but given how much this show loves its twists, nothing is certain where Jamie and Claire are concerned. Elsewhere in the teaser, Brianna is seen giving birth and Claire has a noose around her neck. With the show moving deeper into the Revolutionary War, the stakes have never been higher.
In March 2021, Starz shared the official season seven renewal announcement while season six was still in production itself. "We just want to say thank you so much to all of you fans. . . . We could not do it without you!" Sophie Skelton, who plays Brianna, says in the announcement video. Now, a year later, work on the latest season has finally begun.
On April 6, the official "Outlander" Twitter account posted a first look behind the scenes, tweeting "The cast and crew are back at it – #Outlander Season 7 is in production!" The tweet was accompanied by a photo of Skelton, Catriona Balfe, Sam Heughan, and Richard Rankin all in costume. Heughan got in on the fun too, posting a silly picture of his own. "Wait!!! Is that @Outlander_STARZ season…. 7!?!?!? yazzz," he tweeted along with a picture of the four actors laughing on set.
How Many Episodes Will Be in "Outlander" Season 7?
Season 7 is slated to have even more episodes than the previous season, in part to make up for the pandemic-shortened season six. "We just tried our best to keep everyone safe so we could continue to tell the kind of stories we wanted," executive producer Maril Davis told "Entertainment Tonight" ahead of the sixth season premiere. "Our production really did an amazing job . . . We condensed season 6 and got all the good material in there. And then we're going to give you a supersized season seven, which will present its own challenges."
This upcoming season is currently slated to have a whopping 16 episodes, tying the first season for the highest episode count in the series.
Although it's too soon to tell when the next installment of "Outlander" will be released, viewers can be certain season seven will debut some time in summer 2023.