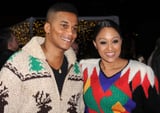 The holidays may have come and gone, but celebrities are still feeling the festive spirit! Queen of Christmas Mariah Carey kicked off the holiday season promptly on Nov. 1, declaring, "IT'S TIIIIIIIIME!!!!!!!! 🎄🎉❤️#MariahSZN," via social media. Since then, her pages have been filled with all kinds of yuletide updates – from unveiling her new children's book "The Christmas Princess" to sharing teasers of her CBS holiday special, "Mariah Carey: Merry Christmas to All." On Dec. 9, she sang an adorable "Away in a Manger" duet with her 11-year-old daughter, Monroe Cannon, during her "Merry Christmas to All" show in Toronto. And on Christmas Eve, she brought an actual sleigh complete with reindeer to make the holiday magic real for her twins. That was followed by more quality time with boyfriend Bryan Tanaka and her kids on Christmas Day.
But Carey isn't the only celebrity relishing this year's holiday fun. In a recent interview with POPSUGAR, Tia Mowry dished about her holiday traditions and how they're changing after her split from Cory Hardrict following 14 years of marriage. "For Christmas, I always like to do a staycation. Meaning, at the end of the year, this is when I wind down and I'm like, you know what? Mama was wearing all of these hats. It's time for Mama to be catered to," she said. "So we are going to a resort where people will be doing the cooking for me. I don't have to make up my bed or anybody else's bed. We're just going to spend quality time together, eating and creating these wonderful, beautiful memories that I hold dear." And she followed through with those plans on Christmas, posting a photo with Hardrict and her kids on Instagram.
Keep reading to see how Carey, Mowry, and other stars got into the holiday spirit.