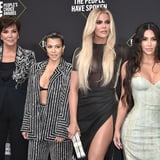 Over the years, society has gotten to know the Kardashian-Jenner clan pretty well, whether you were a die-hard fan of their long-running reality show, "Keeping Up With the Kardashians" or not. The ever-so-prominent family of Hollywood is everything but conventional, especially when it comes to baby names.
Although the matriarch and mogul of the Kardashian family, Kris Jenner, gave all of the first round of Kardashian kids' names the letter "K" to start (save for Rob, who was named after his father), none of them have gone on to name their own Kardashian babies with that tradition in mind. And they've had ample opportunity since, apart from Kendall, all of the Kardashian-Jenner siblings are parents.
Between Kourtney, Kim, Khloé, Rob, and Kylie, the Kardashian-Jenners have 12 little ones, almost all of whom have unique names (although the official names of Kylie and Travis Scott, and Khloé and Tristan Thompson's second babies haven't been shared publicly just yet). The family seems to have developed a penchant for choosing names that are unusual and eccentric and seemingly always leave fans in awe, us included.
Whether you're an expectant parent looking for some inspiration for baby names or just overall captivated by the famous family, we've pulled together a list of all the Kardashian kids' names. Ahead, check out all of their adorable names and some of their cutest photos together.