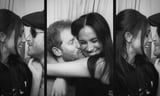 After years of others attempting to tell their story for them, Prince Harry and Meghan Markle finally set the record straight in their Netflix docuseries, "Harry & Meghan," a six-part event directed by Liz Garbus and released in December that shares truths about everything from their unlikely friendship with Tyler Perry to the media's negative role in their relationship.
Through beautiful behind-the-scenes photos, never-before-seen footage, personal video diaries of Harry and Meghan, and new interviews, the Sussexes' documentary takes a deep dive into the unknown facts about what's transpired in their lives. At one point in the docuseries, Garbus asks Harry, "Why did you want to make this documentary?" To which he responds, "No one knows what's happening behind closed doors. I had to do everything I could to protect my family."
"Harry & Meghan" reveals intimate details about the couple's childhoods, their love story's beginnings, and how the fairy tale of their secret courtship was eventually rocked when their relationship was thrust into the public eye, forcing them to continue their relationship amid a barrage of racist media coverage. Meanwhile, Harry's eye-opening memoir, "Spare," which was released on Jan. 10, unearths more shocking details about his life story and his troubled relationship with the royal family.
Before you read his book, scroll ahead to learn the biggest revelations from "Harry & Meghan."
– Additional reporting by Joely Chilcott