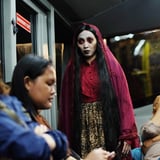 Need a scary movie to get your adrenaline pumping? If so, Netflix has a bunch of terrifying foreign horror movies that will spook you to your core. Whether you're looking to shake things up on movie night or you're always on the hunt for a shocking and surprising horror flick, these scary movies promise an unmatched experience. Plus, with plenty of new scary movies appearing on Netflix all the time, there's never been a better time to explore some of the best foreign horror movies out there – particularly if you're looking for unique horror-inspired Halloween costume inspiration.
After you've run through all the horror classics (don't tell us you haven't seen "Insidious"!), you can move on to this list of frightening first-rate foreign films if you want to take things up a notch. Not only will these movies scare you real good, but they'll also expand your horror-movie horizons and expose you to new and terrifying creatures and stories from around the world. From the nightmare-inducing haunted dolls of the Indonesian flick "Sabrina" to the gory zombie apocalypse of Australia's "Cargo," there's something here for everyone, no matter your preferred brand of horror.
Read on to see the best foreign horror flicks on Netflix – and prepare to get scared.
– Additional reporting by Lauren Harano, Haley Lyndes, and Tasha Dowbachuk