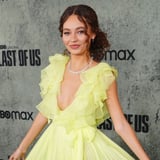 Image Source: Getty / Jeff Kravitz
Though she has only appeared in a handful of movies, actor Nico Parker has built a meaningful acting career since her acting debut in Tim Burton's 2019 film, "Dumbo." Since then, she has appeared in the 2021 sci-fi thriller "Reminiscence" alongside Hugh Jackman and, most recently, is generating a lot of buzz for her role in HBO's "The Last of Us," a screen adaptation of the critically acclaimed video game of the same name.
If Nico looks familiar to you, it might be because she's the daughter of two esteemed names in Hollywood: director and screenwriter Ol Parker and actor Thandiwe Newton.
Who Is Nico Parker's Father? Ol Parker
Director Ol Parker is best known for his directorial credits like "Mamma Mia! Here We Go Again" and, most recently, the 2022 romantic comedy "Ticket to Paradise," which stars Julia Roberts and George Clooney. Other than his popular works as a director, Parker is also credited for writing "The Best Exotic Marigold Hotel" and "The Second Best Marigold Hotel," as well as "Now Is Good" and "A Boy Called Christmas."
Who Is Nico Parker's Mother? Thandiwe Newton
Newton, on the other hand, is recognized for her versatile acting performances in films and television, which include titles like "Crash," "The Pursuit of Happyness," and, most recently, the HBO sci-fi western series "Westworld," which earned her an Emmy award for best supporting actress in a drama series.
Parker and Newton married in 1998 and, throughout their 20+ year relationship, had three children – Ripley (born 2000), Nico (2004), and Booker (2014) – before ultimately separating in April 2022, per The US Sun.
Nico Parker's Quotes About Having Famous Parents
According to Parker herself, having parents in the industry is great. The "Last of Us" actor recently revealed in a January 2023 interview on "Late Night With Seth Meyers" that her parents are "both very good at being supportive parents then also giving professional criticism and praise and all that." She also shared that she does self-tapes with her director dad and enjoyed stopping by sets like "Westworld" and "Mamma Mia! Here We Go Again" when she was younger.
Film set visits were not the only extent of Parker's connection to her parents, however, and in 2021, she shared the screen with her mother in "Reminiscence." Touching on her daughter's career, Newton told People in 2019, "It's absolutely breathtaking. I'm so thrilled for her. . . . And she's got me to just be this she-tiger, waiting to pounce at any moment, just looking after her."
Parker has the drive and talent to continue making waves in Hollywood, and it doesn't hurt to have her amazing parents behind her, either. Don't miss her in HBO's "The Last of Us," which premieres on HBO Max on Jan. 15. Watch the trailer ahead!