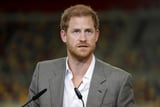 It's been just a few weeks since revelations from the Netflix docuseries "Harry & Meghan" first landed, but there are clearly a lot more bombshells to come from the Duke of Sussex. His highly anticipated memoir, "Spare," hit bookshelves on Jan. 10, and the divulgences contained within are explosive.
But in a new interview with The Telegraph, Harry revealed he cut many of the revelations in "Spare" to protect his brother, Prince William, and father, King Charles III. "The first draft was different," he said. "It was 800 pages, and now it's down to 400 pages. It could have been two books, put it that way. And the hard bit was taking things out."
Harry added that there are some things that happened between him and his father and brother he would prefer for the world not to know about. "I don't think they would ever forgive me," he explained.
In addition to revealing he had enough material for two books, Harry also noted that his ultimate goal with the book is to help change the relationship between the royal family and the press. The Duke of Sussex said he wants nothing more than to make things better for the next generation of royals. "This is not about trying to collapse the monarchy – this is about trying to save them from themselves," he said.
On Jan. 5, extracts from the book were leaked to a select number of publications. Later in the day, copies of the book were accidentally released early in Spain, leading to some getting their hands on a copy and to more details being revealed on social media. The Guardian was the first to publish an extract in which Harry recounts being physically attacked by his brother, Prince William. In the excerpt, Harry writes about an alleged confrontation in 2019 at his home of Nottingham Cottage, on the grounds of Kensington Palace, which resulted in William knocking Harry to the floor.
In another heartbreaking extract, this time released by People, Harry writes of how he drove through the Parisian tunnel where his mother, Princess Diana, suffered her fatal accident: he wanted to relive her final moments in the hope of getting closure.
"Spare" dives into many more topics, including Harry's experience coping with his mother's tragic death, the challenges of growing up in the public eye, and the treatment of him and his wife, Meghan Markle, which led them to step down as working royals. Kensington Palace did not immediately respond to POPSUGAR's request for comment.
Harry addressed more details from his book in an ITV special, "Harry: The Interview" with Tom Bradby on Jan. 8, a "60 Minutes" special the same day, and a "Good Morning America" interview with Michael Strahan on Jan. 9. He did one last interview with Stephen Colbert on "The Late Show."
Read on for the shocking memories released from "Spare."