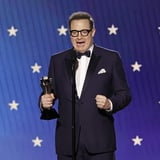 Brendan Fraser had a triumphant night at the 2023 Critics' Choice Awards, where he snagged the best actor trophy for his "The Whale" performance. Following his Hollywood comeback, the 54-year-old actor was up for the honor against stiff competition, which included Austin Butler in "Elvis," Tom Cruise in "Top Gun: Maverick," Paul Mescal in "Aftersun," Colin Farrell in "The Banshees of Inisherin," and Bill Nighy in "Living."
Fraser accepted his award Sunday night and delivered an emotional speech, saying, "I'm sure glad you woke up for me," referring to those who watched "The Whale." "This movie, 'The Whale,' is about love, it's about redemption, and it's about finding the light in a dark place," he added while on the verge of tears. The actor thanked his fellow costars, including Sadie Sink, Hong Chau, and Ty Simpkins, as well as director Darren Aronofsky, whom he graciously honored for picking him for his award-winning role.
He concluded his emotional speech with: "If you, like a guy like Charlie, who I played in this movie, in any way struggle with obesity, or you just feel like you're in a dark sea, I want you to know that if you, too, can have the strength to just get to your feet and go to the light, good things will happen."
Fraser's latest honor comes after he snagged a 2023 SAG Award nomination and skipped out on the 2023 Golden Globe Awards, a decision he announced in his November 2022 GQ interview, where he spoke out against the award show and the Hollywood Foreign Press Association.
"I have more history with the Hollywood Foreign Press Association than I have respect for the Hollywood Foreign Press Association," Fraser told the outlet. "No, I will not participate. It's because of the history that I have with them. And my mother didn't raise a hypocrite. You can call me a lot of things, but not that." Despite his refusal to support the Golden Globes, Fraser still earned a best actor nomination.
With his comeback era now in full swing, Fraser just may score an Oscar nomination for "The Whale" to top it all off.