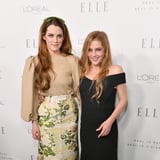 On Jan. 24, Riley Keough shared the final photo she took with her mother, Lisa Marie Presley, on Instagram. Presley died on Jan. 12 at the age of 54 and was laid to rest Jan. 22 on the grounds of Graceland in Memphis, TN, near her father, Elvis Presley, and son, Benjamin Keough, who died by suicide in 2020 at the age of 27. She's survived by Riley, as well as her 14-year-old twin daughters Harper and Finley Lockwood, whom she shared with ex-husband Michael Lockwood, and her mother, Priscilla Presley.
In the photo, Riley and Lisa Marie are sitting next to each other and smiling in what appears to be a restaurant. "I feel blessed to have a photo of the last time I saw my beautiful mama," Riley captioned the photo. "Grateful @georgieflores took this. ❤️"
Riley's friends quickly filled her comments section with messages of love and support. Actor and dancer Taylour Paige-Angulo commented, "Im so thankful I witnessed you taking this beautiful photo. You both looked stunning that night with our yummy oysters ❤️❤️❤️❤️❤️❤️❤️❤️❤️❤️❤️❤️." Georgie Flores, who took the photo for her friend, added, "I love you both with my entire heart."
This is the second tribute to her mom that Riley has shared on Instagram. On Jan. 20, the "Daisy Jones & the Six" actor posted a throwback photo of herself with Lisa Marie when she was a little girl. She captioned the black-and-white image with a simple red heart.
Although she didn't speak at her mother's Jan. 22 memorial, Riley wrote a touching tribute for Lisa Marie that was read by Riley's husband, Ben Smith-Petersen, in which she revealed that her mother became a grandmother before she died. "I hope I can love my daughter the way you loved me, the way you loved my brother and my sisters. Thank you for giving me strength, my heart, my empathy, my courage, my sense of humor, my manners, my temper, my wildness, my tenacity. I'm a product of your heart, my sisters are a product of your heart, my brother is a product of your heart," Smith-Peterson read for his wife.
He continued, "I hope you finally know how loved you were here. Thank you for trying so hard for us. If I didn't tell you every day, thank you."