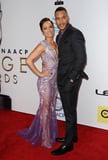 Grace and Trai Byers may have starred alongside each other on "Empire," but there's a more important role they play in each other's lives: spouses. The couple tied the knot back in October 2016 in a beach ceremony on Grand Cayman Island and have been wooing fans ever since.
In July 2021, Grace shared her adoration for Trai in a beautiful birthday tribute. "To love when the world is intact, is one thing. to love – unconditionally, selflessly and so very deeply – when literal and proverbial worlds threaten to fall apart, that's a whole other level," she wrote. "To the man who has literally cradled and rocked me in his arms whether the tears are flowing or the smiles are aplenty; I celebrate you. I lift you up. I admire you. I see you. I hold the purest part of you in sacred love. You inspire me. You move me. You teach me. You accept me. You show up. No perfection. no false pretenses. you give me all of you. and what a breath-taking all it is."
It's posts like these that remind fans how real their love is, leaving onlookers to wonder how many kids the pair have together. So if you're an inquiring mind, keep reading to find out.