Pink has opened up about the death of her father and their family's beloved nanny in a raw interview with Women's Health.
In the wide-ranging sit-down, the singer detailed how the loss of her father to cancer in 2021 and the recent death was the family's nanny, Trish, impacted her kids Willow, 11, and Jamison, six.
"She was one of the loves of our life," Pink told the magazine, adding that Trish herself helped the kids understand what would happen when she died by explaining "she would be their angel". 
READ MORE: TV star mourns death of stepson from inoperable brain tumour
https://www.instagram.com/p/CmnkO2ZLogH/?hl=en
"And so my youngest – talking about this makes me cry – Jameson will walk around the kitchen and go, 'Hey, Grandpa, hey, Trish.'"
To this day, the children speak to Trish as they still feel her presence, and Pink allows them to as it helps with their healing.
During a recent hiking trip when a hailstorm broke out, the singer was touched when she heard Jameson talking to Trish.
READ MORE: Robbie Williams' dad rushed to hospital after breaking spine
"'Trish, I know you're up there; you've got to make the wind stop!'" Pink recalled him saying.
The singer also opened up about the pain of losing loved ones in an interview on The Kelly Clarkson Show this week, where she revealed performing her 2006 hit Who Knew helps her with the grieving process.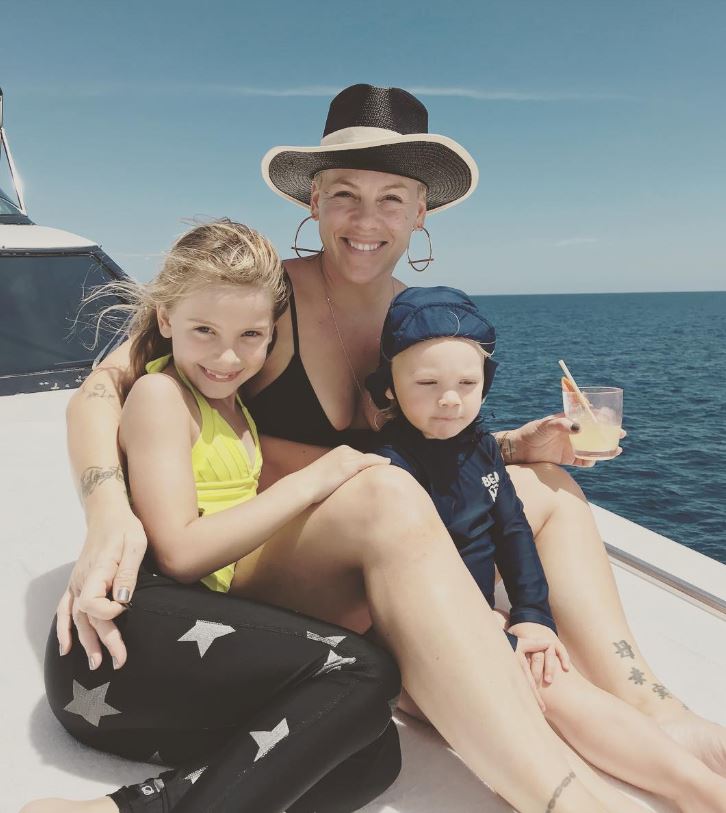 "The thing that I love about the song now, after all these years, is that I never get tired of performing it, and it's taken on so many different meanings over the years," she said. "It was about my grandmother at one point. It was about my dog. I've lost people, so it's always sort of fresh in my heart."
The singer will likely belt out that song next year when she embarks on her first-ever Aussie stadium tour. Pink has headlined stadiums all around the world, but us folks over here in Australia have never had the honour of watching her perform live in an arena capacity – until now.
"I am so excited to finally get a chance to tour Australia and New Zealand in the summer!! I can't wait to bring the Summer Carnival Tour to my home away from home, and smile and sing together until our cheeks hurt. Summer 2024 can't come soon enough!" she said in a statement shared with Live Nation.
READ MORE: Madonna hits back at ageist criticism after Grammy Awards appearance
https://www.instagram.com/p/CoaZXPQv2MI/?hl=en
The singer will hit Sydney, Newcastle, Brisbane, the Gold Coast, Melbourne, Adelaide and Perth, with the tour announcement coinciding with the release of her highly anticipated ninth studio album Trustfall, out on February 17.
The tour will mark Pink's first return to Australia since her Beautiful Trauma tour in 2018. She was also on our shores in 2013 for her Truth About Love arena tour, in which she played a record-breaking 18 arena shows in Melbourne alone – a total of 46 arena shows around the country. 
Her 2009 Funhouse tour also broke the record for the biggest tour in our country's history, with more than 660,000 people buying tickets to watch her live. 
For a daily dose of 9Honey, subscribe to our newsletter here.