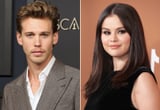 Image Source: Getty / Monica Schipper / Momodu Mansaray
Before his award-winning portrayal of Elvis Presley, Austin Butler was a child star, appearing on shows like "iCarly," "Zoey 101," and "Wizards of Waverly Place." The Oscar-nominated actor recently recalled a sweet memory with the latter's lead, Selena Gomez, whom he came up with in the industry.
"We're just so fortunate to have careers in this industry for this amount of time."
In an interview with Vanity Fair published on Feb. 15, he shared that while filming "Elvis," the "Only Murders in the Building" actor sent him a photo of the two from when he guest-starred on the Disney Channel show in 2010. "She sends it to me, just going, 'Wow, remember this?' It feels like another life," he said. Fans may remember Butler played a love interest of Gomez's character, Alex Russo, in season three of the series.
Butler explained it's common for child actors to leave the industry eventually, unlike the way his and Gomez's careers have panned out. "We're just so fortunate to have careers in this industry for this amount of time," he told the outlet.
Butler was among 12 stars on the cover of the publication's Hollywood issue, including Gomez, Jonathan Majors, and Florence Pugh.
Elsewhere in the story, the recent Golden Globe winner spoke about becoming "obsessed" with the craft behind acting at a young age. He was particularly inspired by Leonardo DiCaprio, as he felt the actor seamlessly transitioned from child stardom into a full-fledged movie star. "Every film that he chose, you could see the level of passion that he still had for the work. And that's been a surreal thing, looking back at what my dreams were when I was 15, and then getting to work with the people that he got to work with, getting to be on set with him."
See photos of Butler and Gomez on "Wizards of Waverly Place" ahead.