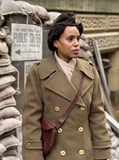 We now have our first look at "Six Triple Eight," the World War II movie written and directed by Tyler Perry. The period piece – which was first announced in December 2022 – stars Kerry Washington and will tell the true story of the only all-Black, all-female battalion to join the UK's World War II efforts. Per Netflix, it is based on an article by Kevin M. Hymel that was published in WWII History magazine.
"To honor the long ignored worth of the 6888 has been the greatest privilege of my career thus far," Perry wrote in a Feb. 16 Instagram post alongside a photo of the cast, citing the fact that the women's story is not particularly well known despite its significance. It has begun to gain some new attention in recent years, though, with President Joe Biden awarding the women the Congressional Gold Medal on March 14, 2022.
Washington also shared an Instagram post of herself in costume, explaining her connection to the movie. "God as my witness, last year I posted a #BlackHERstory picture of me dressed as Lena Derricott – a young woman who served in the 6888 battalion, the only all Black all female battalion to serve overseas in WWII," she explained in the caption, citing a previous post from May 2022. "At the time, unbeknownst to me, sitting in my email inbox was some information Tyler Perry had sent me about a movie he was hoping to make about these phenomenal women!"
The movie does not have a release date yet, but keep reading for everything we do know about it.