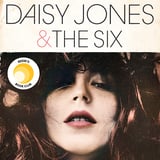 Amazon Prime Video's miniseries "Daisy Jones & The Six" is already one of the most-anticipated TV shows of the year, not to mention one of the buzziest book-to-screen adaptations. Based on a bestselling novel by Taylor Jenkins Reid, the book traces the evolution of a fictional 1970s rock band (loosely based on Fleetwood Mac) from their earliest beginnings to their meteoric rise and all the drama along the way.
Like any adaptation, the TV version could veer a little bit – or a lot – from the book's storyline, of course. But if you're curious about what to expect before pressing play, we've got a full, spoiler-packed summary of the book right here.
"Behind the Music" Framing Device
"Daisy Jones & The Six" is framed as a transcript of a behind-the-scenes oral history, similar to MTV's iconic "Behind the Music" docuseries. The focus of the fictional documentary is a rock band called Daisy Jones & The Six, who was a smash hit in the 1970s, with all the sex, drugs, and drama that entails.
We first meet our main characters in the late 1960s, before they all meet. Daisy, the daughter of a painter and a model, grows up in Los Angeles around the art and music scene. Her parents are wealthy but hands-off, and teenage Daisy soon starts sneaking out at night to see rock concerts. There, she meets Simone Jackson, a disco singer who becomes one of her best friends and introduces her to the high-flying music and party scene. Simone is also the one to first encourage Daisy to pursue her singing and songwriting, which she does, catching the eye of record producers.
Meanwhile, across the country in Pittsburgh, brothers Billy and Graham Dunne form a music group, the Dunne Brothers. Raised by a single mother, they start playing music in high school. Soon, they add more members to their band: drummer Warren Rhodes, guitarist Chuck Williams, and bassist Pete Loving.
The Rise of Daisy Jones & The Six
At a wedding where the Dunne Brothers are hired to play, Billy meets a woman, Camila, whom he later falls in love with. Chuck is drafted to go to war, where he is ultimately killed, and Pete's brother Eddie joins as the new guitarist. After adding one more member, keyboardist Karen Sirko, the band renames themselves "The Six" and is eventually signed by a music producer, Teddy Price, in Los Angeles.
The band records their first album and gets ready to go on tour, but a personal twist hits: Camila is pregnant, so she and Billy get married quickly. While on tour, though, the worse side of Billy comes out. He uses drugs heavily and cheats on Camila repeatedly, and she gives him an ultimatum to get sober before their baby arrives. Teddy ultimately has to take Billy to rehab, and Billy misses the birth of his daughter, Julia, but does get clean.
Around the same time, Daisy is hitting struggles with her own songwriting and recording, but does manage to release an album. When Teddy tells The Six they should do a duet with a female singer, he suggests Daisy. She and Billy clash over tweaking lyrics, but the song they release is a hit, and Daisy winds up opening for them on tour. Billy struggles with being around Daisy, in large part because she also struggles with substance use disorder and he's trying to stay sober. When "Rolling Stone" catches wind of the group and puts them on the cover, Daisy officially joins them, and the band is renamed Daisy Jones & The Six.
Breakups, Makeups, and Legacies
As the band grows closer, the drama also grows. Karen and Graham begin a secret relationship, while Billy continues to let Camila down while clashing with Daisy over the music and over her increasing drug use. At one point, Daisy kisses Billy during a work session, but he pulls away and leaves. While waiting for the album to finish production, Daisy heads to Thailand, where she meets an Italian prince and impulsively gets married, forcing Simone to fly out and drag Daisy back for tour rehearsals, where everyone is arguing over the changes made to their album.
They launch the tour against a backdrop of an article that claims Billy and Daisy hate each other, which only enhances the band's mystique. After a near-fatal drug incident, Daisy divorces her husband and vows to get clean, reconciling with Billy along the way. Karen tells Graham that she's pregnant, but ends up getting an abortion. Daisy admits that she's in love with Billy, and although he has feelings for her too, he decides Camila is who he really wants. Then, Daisy's fledgling sobriety is cut short by Teddy's sudden death.
At a fateful Chicago show in 1979, everything comes to a head. Daisy gets drunk and sad after seeing Camila and Julia at the show, and Camila helps her realize that she needs to leave the band to get clean in order to move on. Billy nearly starts drinking again, but is saved by the intervention of a fan asking about his family, and he, too, decides to leave the band.
It's then revealed that the "author" of the story is Julia, all grown up and writing about her family's legacy. We learn that the band never played together again, but all went on to lives that made them happy. Daisy gets (and stays) sober, writes more, and adopts children. Pete and Warren are both happy and settled with their wives, as is Graham, who marries, and has kids with someone other than Karen. Karen, meanwhile, stays in the music business for a couple more decades before retiring in the '90s. Eddie becomes a record producer.
Billy and Camila stay together, and Camila dies from lupus around five years before the documentary. The story ends with the reveal of a letter Camila wrote to Julia before she died. She tells Julia to give Billy some time to mourn, then tell him to call Daisy.