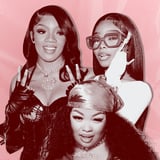 Image Source: Tamara May / Getty / Vivien Killilea, Johnny Nunez
The days of rappers hassling radio DJs to play their singles and selling mixtapes on the street are officially over. Why? Because artists are finding much more success online by going viral on platforms like TikTok – and today's up-and-coming female rappers are leading the charge.
TikTok has, indeed, blossomed into a place for women in rap to launch their careers in front of a wider audience. In fact, many artists who sought out mainstream success pivoted toward the video-sharing launchpad as it began to blow up amid the COVID-19 pandemic in 2020; they quickly turned it into their own musical playground, setting the latest trends for user-generated content. Female rappers, in particular, have expertly learned how to make the most of viral TikTok moments and turn them into major career stepping stones.
"The platform is a true gem for emerging artists and has helped female hip-hop artists, in particular, amplify their voices more than ever."
Just look at Megan Thee Stallion's Grammy-winning "Savage (Remix)" featuring Beyoncé, or Lola Brooke's game-changing hit "Don't Play With It," or even Baby Tate's 2016 "Hey, Mickey!" track that recently caught its second wind online. They're all viral sensations that have TikTok to thank in part for their massive success. According to an expert, it's because the app is becoming the "go-to platform for music discovery."
"TikTok's foundation is based on content that's easy to consume and fun," Hayalsu Altinordu, an Upwork content marketing freelancer and label & agency partnerships manager at Vydia, tells POPSUGAR. "Because of this, lesser-known hip-hop artists have the ability to organically reach millions of people with their own unique and exciting content."
Consequently, "the app has helped many artists create huge fan bases, moving viral hits from TikTok onto the Billboard top 100 lists or increasing streams on services like Spotify or Apple Music," Altinordu adds. "The platform is a true gem for emerging artists and has helped female hip-hop artists, in particular, amplify their voices more than ever."
In contrast with their male counterparts, female rappers have likely seen more success on TikTok because the platform acts as a niche space for young women, especially young Black women, to be their authentic, unapologetic selves – a luxury that's not always afforded to us IRL. And without obstacles like sexism standing in their way – which women in rap have historically dealt with in terms of being recognized for their achievements and skills – TikTok has paved the way for women to be the platform's authoritative voices in hip-hop.
Whether they've used TikTok to test out soon-to-be hits or to position themselves as music's next big thing, women in rap are propelling themselves to new levels of success with the best cheat mode in music today. In celebration of this, TikTok launched its two-week-long #WomeninHipHop initiative on Feb. 22 – which coincided with its #BlackTikTok programming hub that includes a spotlight on music, artists, and an IRL series in honor of Black History Month. The initiative aims to highlight today's talent and the app's many success stories – one of which is Brooklyn native Maiya the Don.
Image Source: Tamara May
"TikTok can be very beneficial in promoting your music when you use it right."
In October 2022, the up-and-comer, known for her big personality and braggadocious charm, dropped her infectious "Telfy" anthem, an ode to the Telfar's signature handbags, which quickly spread far and wide on social media. Maiya, who was recently named one of TikTok's 2023 Visionary Voices and is currently working on dropping her debut project, tells POPSUGAR that she originally started out as a beauty creator on TikTok but smoothly pivoted to music after she saw all the benefits the platform could offer her budding career.
"TikTok can be very beneficial in promoting your music when you use it right. I think that's really good for that. And of course, it's the standard now," she notes, adding that her initial TikTok video for "Telfy" got "over a million views" overnight. "It's one of the biggest social media platforms, and that's [why] digital marketing is so important in this day and age. Nobody's really picking up newspapers or magazines to see what's hot. They're going on their phone . . . and they're going to go search on TikTok."
It's no secret that TikTok has become a leader calling the shots in the music industry. In 2022, The New York Times declared the platform a "major cultural influence." And it shows, particularly when you look at how it's contributed to the trajectory of now-household names like GloRilla and Ice Spice, who are slowly but surely embedding themselves in the fabric of the culture.
Last month, Time reported on Ice Spice's "TikTok takeover," crediting her massive hit "Munch (Feelin' U)" as the catalyst that skyrocketed her to internet stardom after a clip of it went viral on TikTok. Her other notable singles "Bikini Bottom" and "In Ha Mood" also trended on TikTok, with the latter contributing to over 104,000 total creations within the first week of its official release in January. "All my siblings tell me how they just see me all over [TikTok's] For You page," the rapper told XXL that same month. "And all their friends be singing my song and stuff. It's crazy."
Similarly, GloRilla's music has also gained traction thanks to the platform: it gave rise to her breakout, Grammy-nominated hit "F.N.F. (Let's Go)" and the #FNF dance challenge that came after it peaked on the Billboard Hot 100 last summer. Same for her Cardi B-assisted, gold-certified monster smash "Tomorrow 2," arguably one of the biggest songs of 2022, which has produced over 786,000 total creations on TikTok and counting.
"I don't really make TikTok music. But sometimes, it be so hard that it just goes viral on there because of how good it is."
There are many more examples of female rappers getting love from TikTok – including Monaleo, whose 2021 song "Beating Down Yo Block" demanded the attention of the TikTok community and rap fans alike; Ken the Man, whose "Not My N*gga" track served as the perfect musical backdrop for TikTok users' many videos; and Flo Milli's viral song "Conceited," which recently got the remix treatment with Maiya and Brooke.
However, despite all of their success on account of the ever-growing platform's support, none of the aforementioned femcees should dare be mistaken for just being "TikTok rappers." "I really got bars, you know I don't really make TikTok music. But sometimes, it be so hard that it just goes viral on there because of how good it is," GloRilla told Refinery 29's Unbothered last August, addressing the pressure to create music specifically for viral appeal. "Then even with 'Tomorrow [2]' I would have never thought that it would be a song on TikTok that people are going crazy about."
The craze and appeal of TikTok's superstar-enabling ways is the main reason up-and-coming, and even established artists, continue to flock to the platform – in spite of its algorithm and For You page trends that sometimes limit artistry. However, as far as female rap is concerned, the genre continues to thrive on the platform, given that it helps those rappers find new ways to stay connected to their fans.
Still, don't sleep on their skills – these artists are steadfast in proving the capabilities of women in rap beyond what can be condensed in a TikTok video.