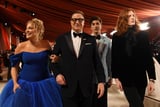 After 20 long years, Brendan Fraser made a triumphant return to the Oscars on Sunday evening. The 54-year-old star – who is nominated for best actor for his performance in "The Whale" – was joined by his girlfriend, Jeanne Moore, and two of his sons, Holden, 18, and Leland, 16, whom he shares with ex-wife Afton Smith.
Of their dad's Oscar nomination, Fraser's sons told Laverne Cox on the E! red carpet, per People, "We are unbelievably proud. Over the moon." Noticeably absent was Fraser's eldest son, Griffin, who maintains a life outside of the spotlight. The last time Fraser attended the Academy Awards was in 2003.
Fraser's return to the big screen has been highly lauded, though "The Whale" has been criticized for its portrayal of fatphobia. Fraser began his career as an action hero, playing George of the Jungle in 1997 and starring in the Mummy trilogy from 1999 to 2008. But his career stalled in the 2000s, and the actor has been open about his struggles with depression during this time. In 2018, he alleged that Hollywood Foreign Press organizer Philip Berk sexually assaulted him in 2003 and questioned whether reporting the incident at the time had led to him being "blacklisted" from Hollywood.
See more of Fraser's night at the Oscars ahead.