Welcome to 9Honey Celebrity's live blog for the 2023 Oscars.
It's Hollywood's night of nights, and many of the A-list – and some newcomers – are vying to take home one of the biggest accolades an entertainer can be awarded.
The Oscars gala, held at Los Angeles' Dolby Theatre, is set to begin at 11:00am AEDT on Monday, March 13.
Follow along as we bring you all the biggest moments, winners and surprises of the event – including all the celebrity looks from the red carpet (Florence Pugh's hotpants included) and why the red carpet is not actually red this year. All times in AEDT.
Click the image below to see all the glamourous looks on the Oscars 2023 'champagne' carpet over at 9Honey Style.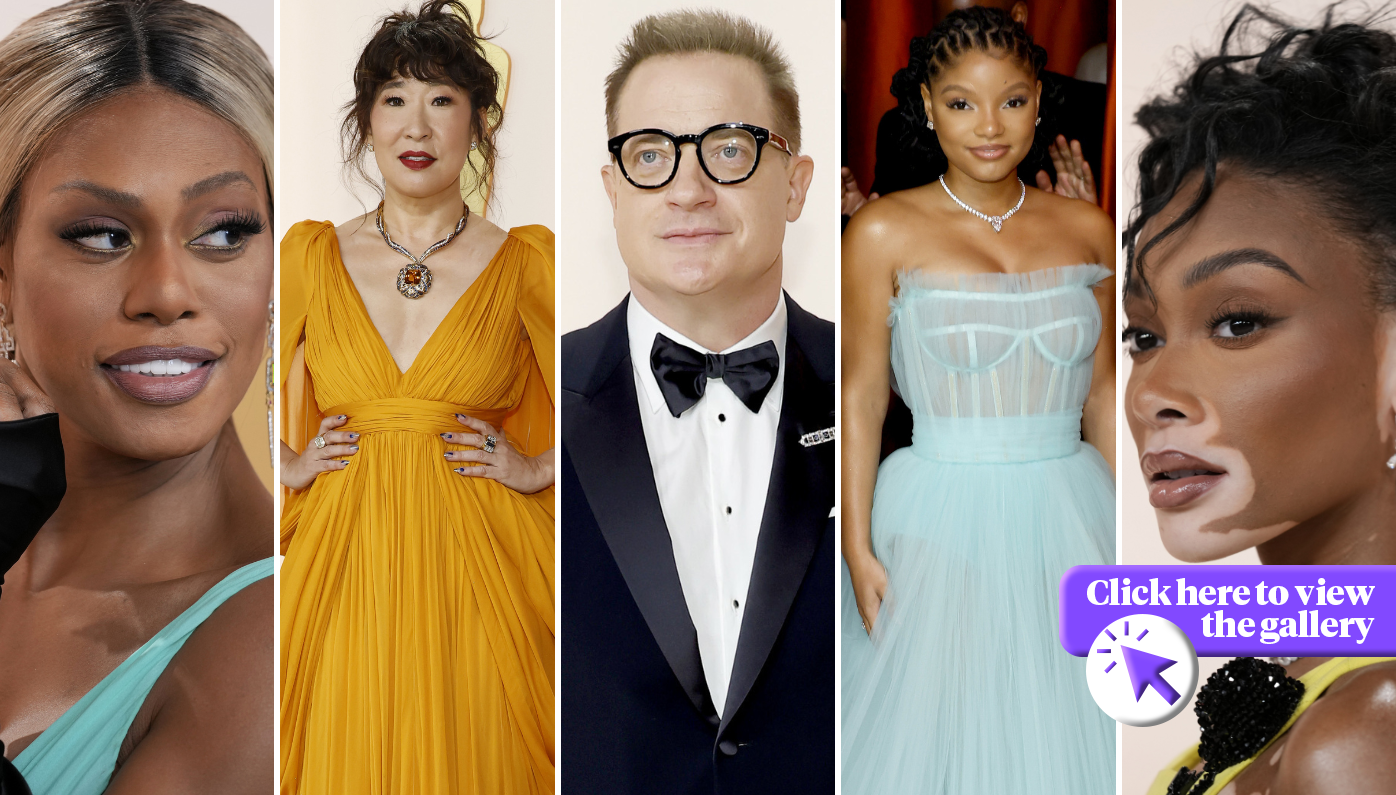 READ MORE: Full list of winners and nominees for the 2023 Oscars
10.30am: Tom Cruise is a no-show
Top Gun: Maverick might be up for six awards, but its leading man won't be at the Oscars.
People reports Tom Cruise is missing today's ceremony due to a calendar clash: He's filming Mission: Impossible 8 overseas.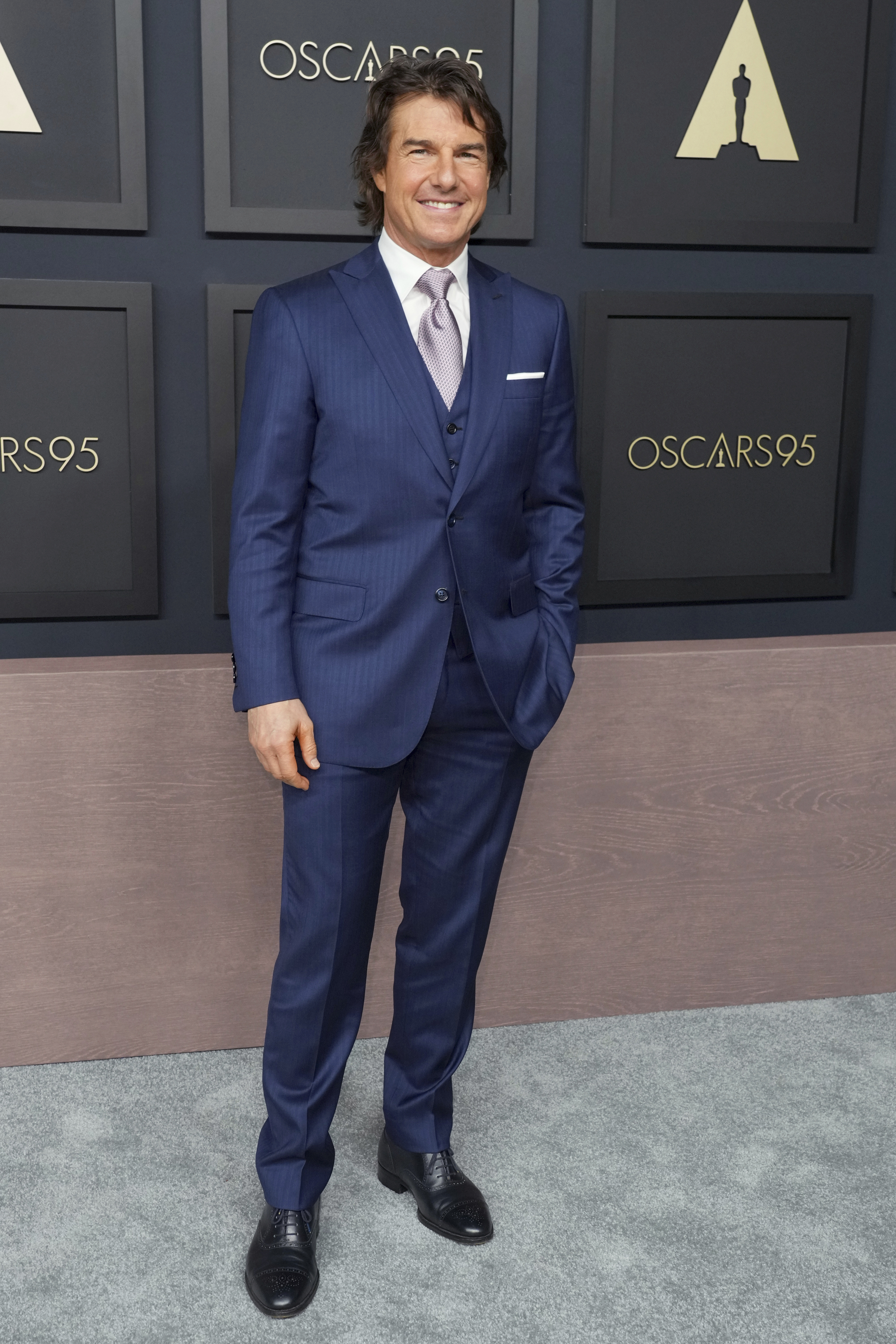 Cruise did, however, attend the Oscars Nominees Luncheon on February 13.
10.18am: The Luhrmanns are here!
Baz Luhrmann is in good company, with wife Catherine Martin – the celebrated costume designer and most awarded Aussie in Oscars history, no less – and daughter Lilly at his side.
The Australian director's hit Elvis is up for Best Picture.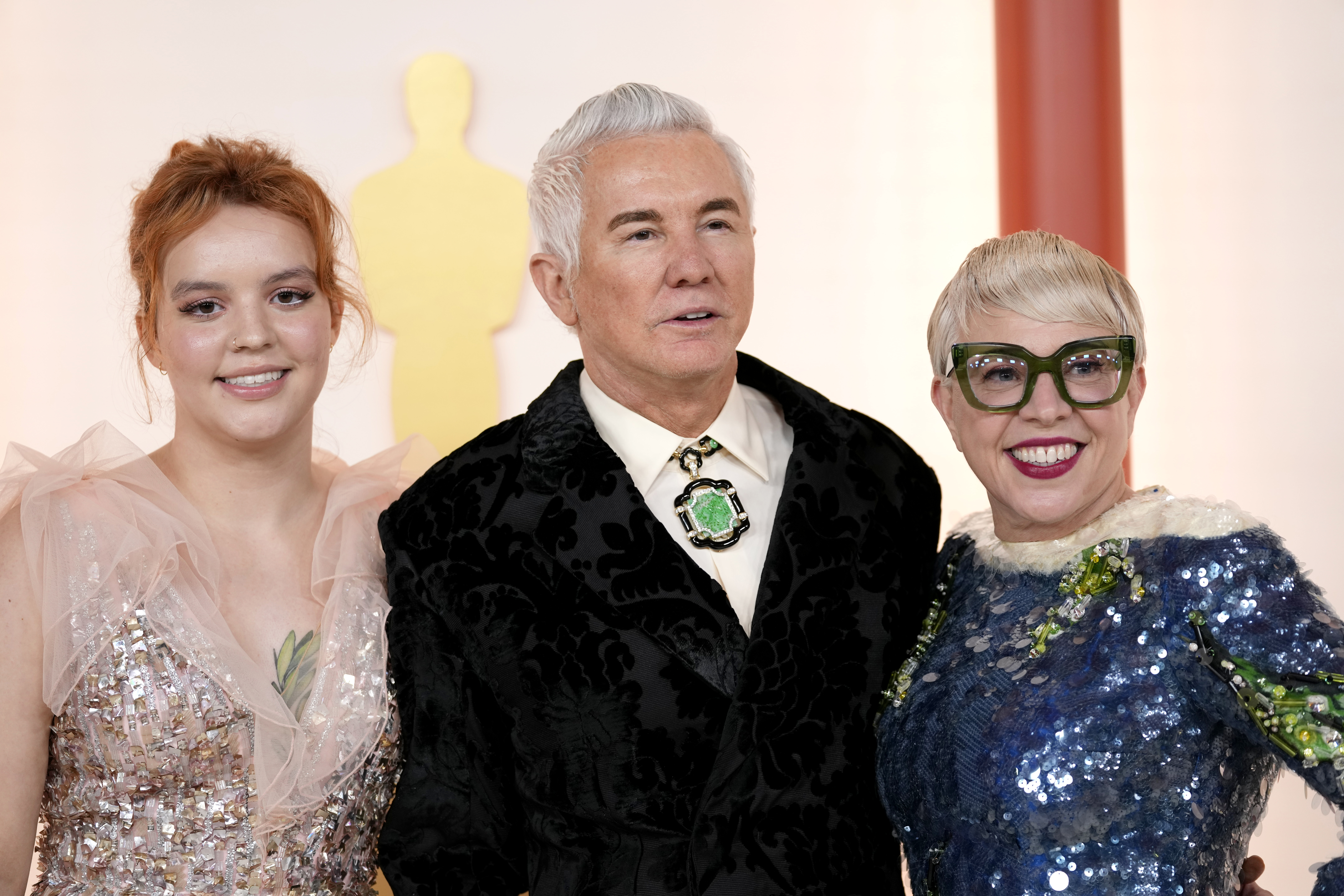 10.03am: We spy a pair of hotpants
Don't try to tell us shorts aren't red carpet-worthy!
Florence Pugh is wearing a Maison Valentino ensemble she describes as "a bit romantic, a bit of punk".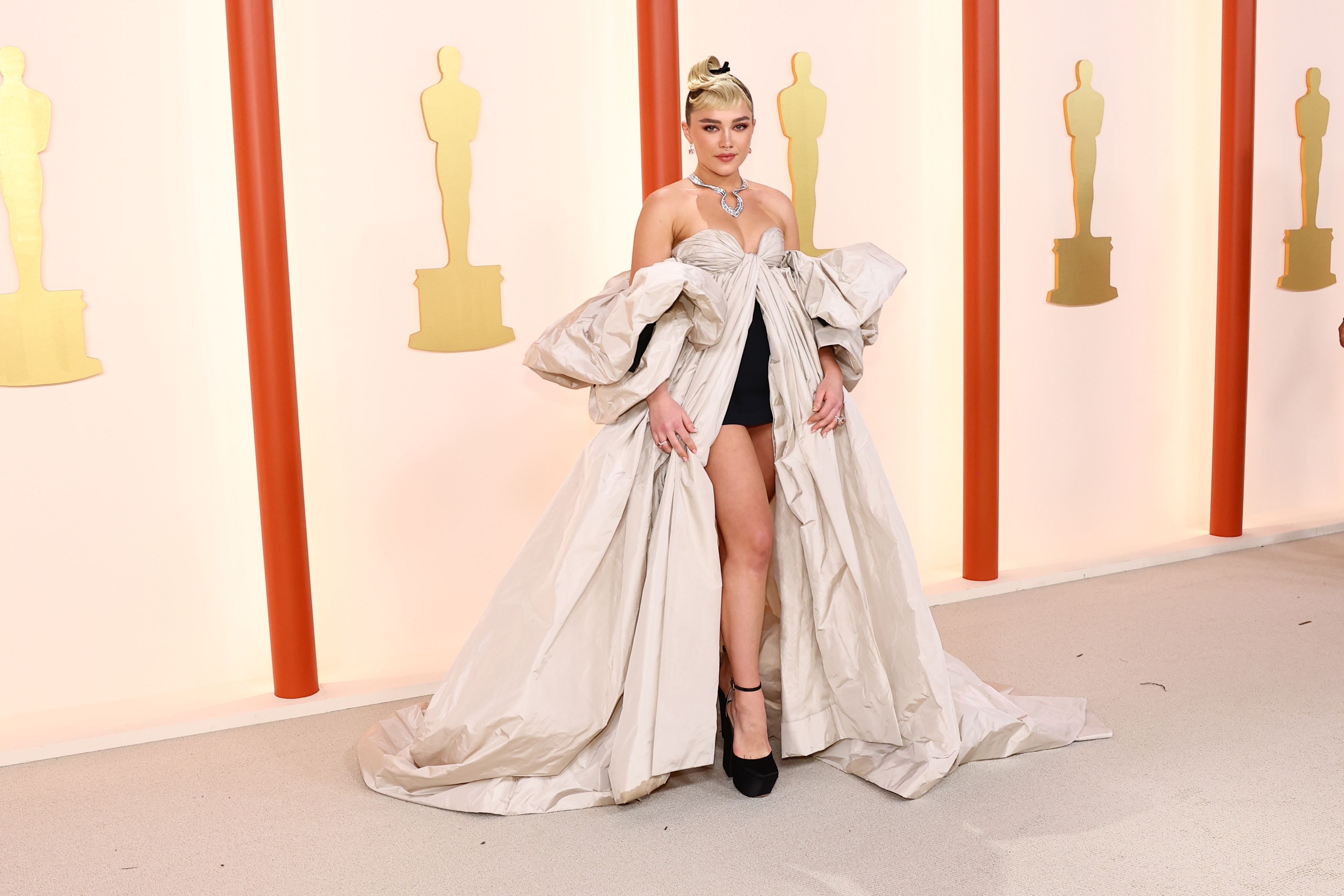 "I'm wearing some shorts, I'm doing it," the Don't Worry Darling star told Laverne Cox.
And yes, the shorts have pockets.
9.32am: If you know, you know…
James Hong was only a few months old when the very first Oscars took place. Now, at 94, he's attending the event for the very first time!
The legendary actor is hamming it up for the cameras, and there's a detail on his outfit that will make anyone who's watched Everything Everywhere All At Once smile.
Take a closer look…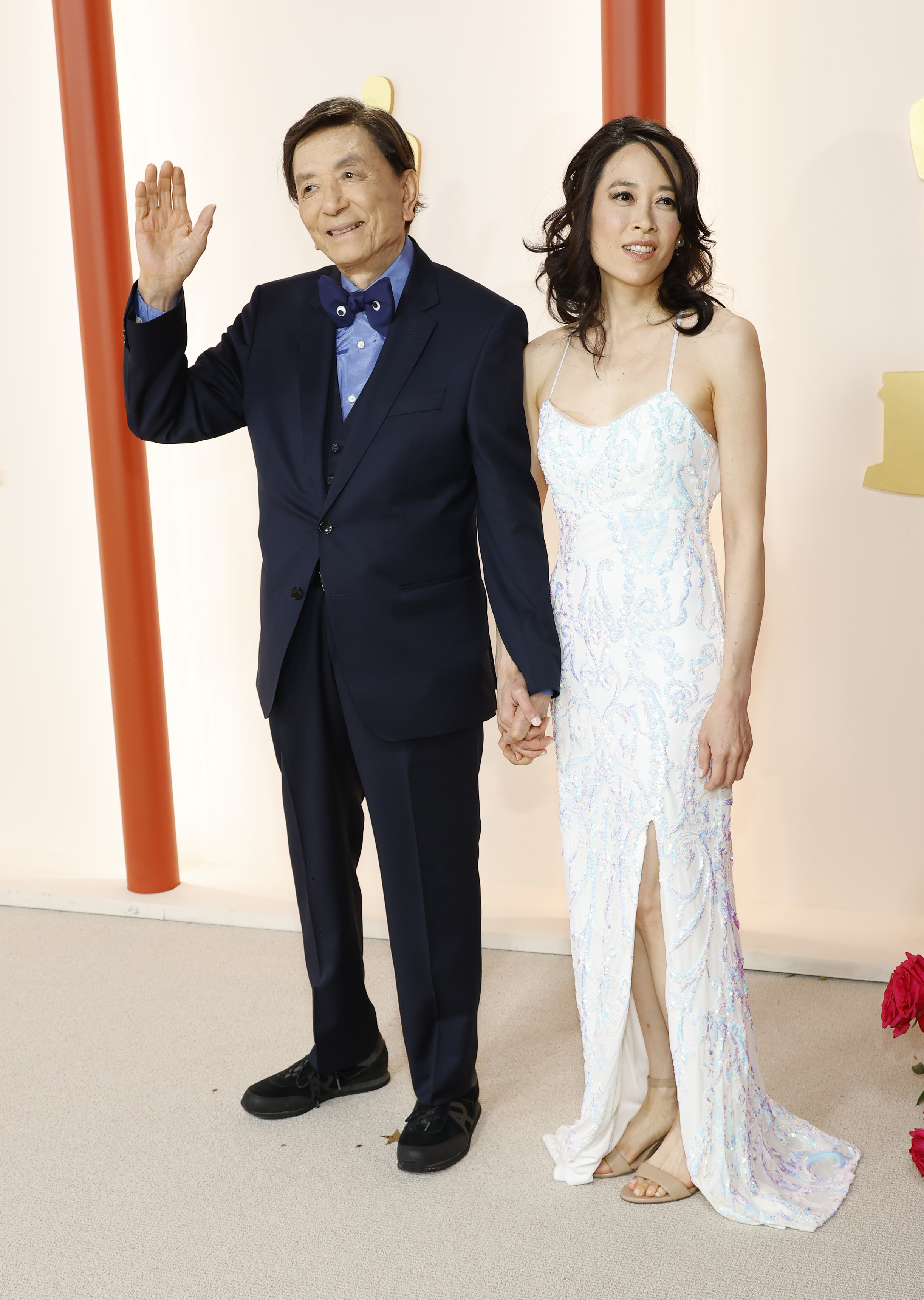 Yes, there's a pair of googly eyes stuck to Hong's bowtie! If you've seen the multiverse action epic, you'll know googly eyes make plenty of appearances throughout.
It's bound to be a huge night for the Everything Everywhere All At Once cast and crew; the movie is up for a whopping 11 awards.
9.16am: It's a family affair for Brendan Fraser
IN PICTURES: The best looks from the Oscars champagne carpet
Best Actor nominee Brendan Fraser has plenty of moral support on hand, with his sons Holden and Leland accompanying their dad to today's ceremony, as well as his girlfriend Jeanne Moore.
"We are unbelievably proud… over the moon," Holden told an interviewer on the red carpet.
Rightly so – Fraser is up for his very first Oscar for his role in The Whale. Take a look back at his long and varied Hollywood career in our gallery:
READ MORE: Major change to the Oscars red carpet after 62 years
9.04am: Malala sparkles on the carpet
Malala Yousafzai has arrived in dazzling style, wearing a hooded silver sequinned gown from Ralph Lauren.
The education activist and Nobel Prize laureate produced the documentary short Stranger at the Gate, which is up for an Oscar.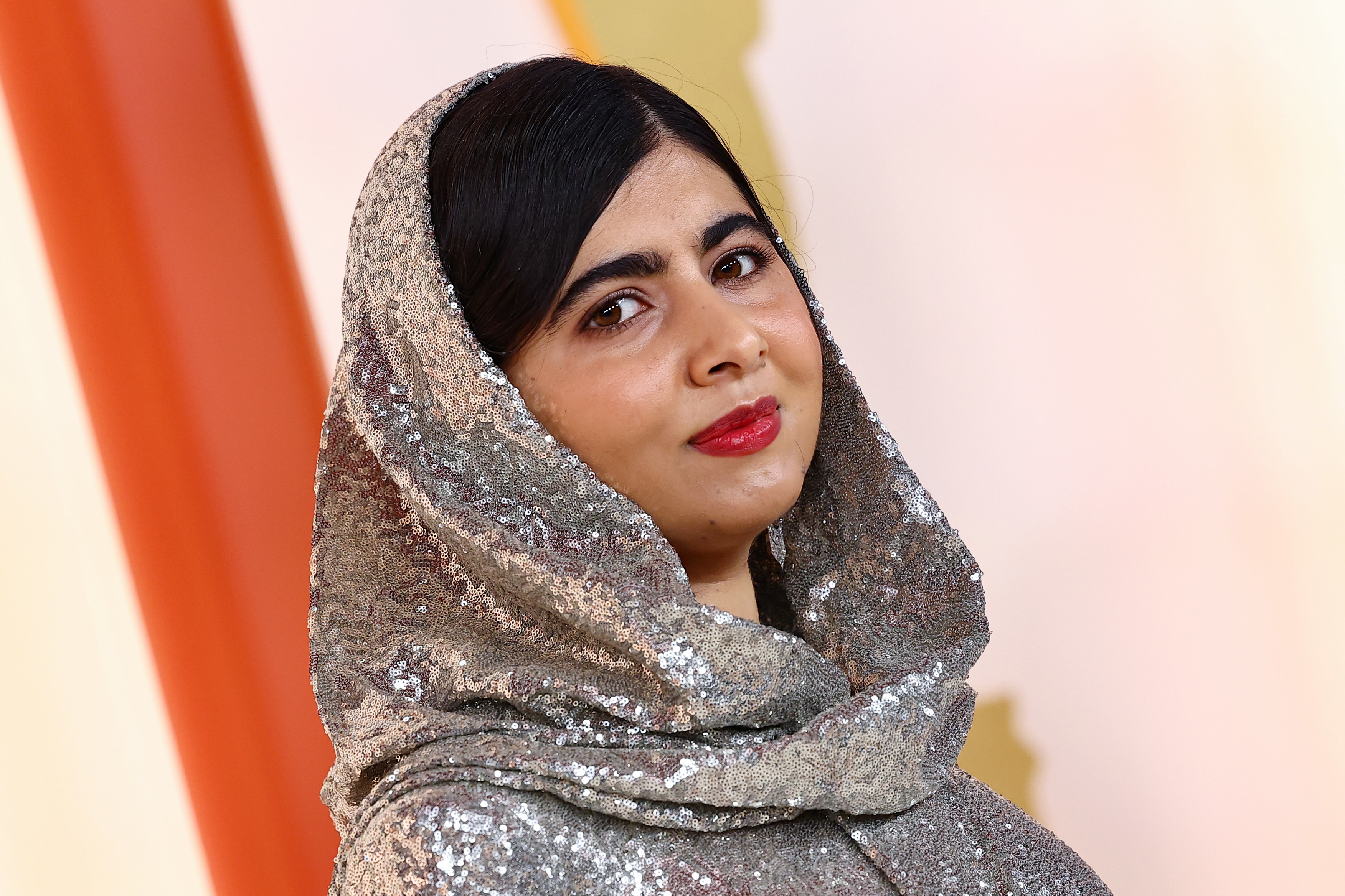 8.20am: Lady Gaga to perform despite calendar clash
It's official (sorta): Lady Gaga will be performing during today's ceremony.
That's according to reports from various media outlets, the news coming days after fans were informed the singer had a schedule clash – a movie shoot – that would prevent her appearing at the Oscars.
Lady Gaga and the Academy are yet to confirm the reports.
READ MORE: Meet the Brisbane student who's nominated for an Oscar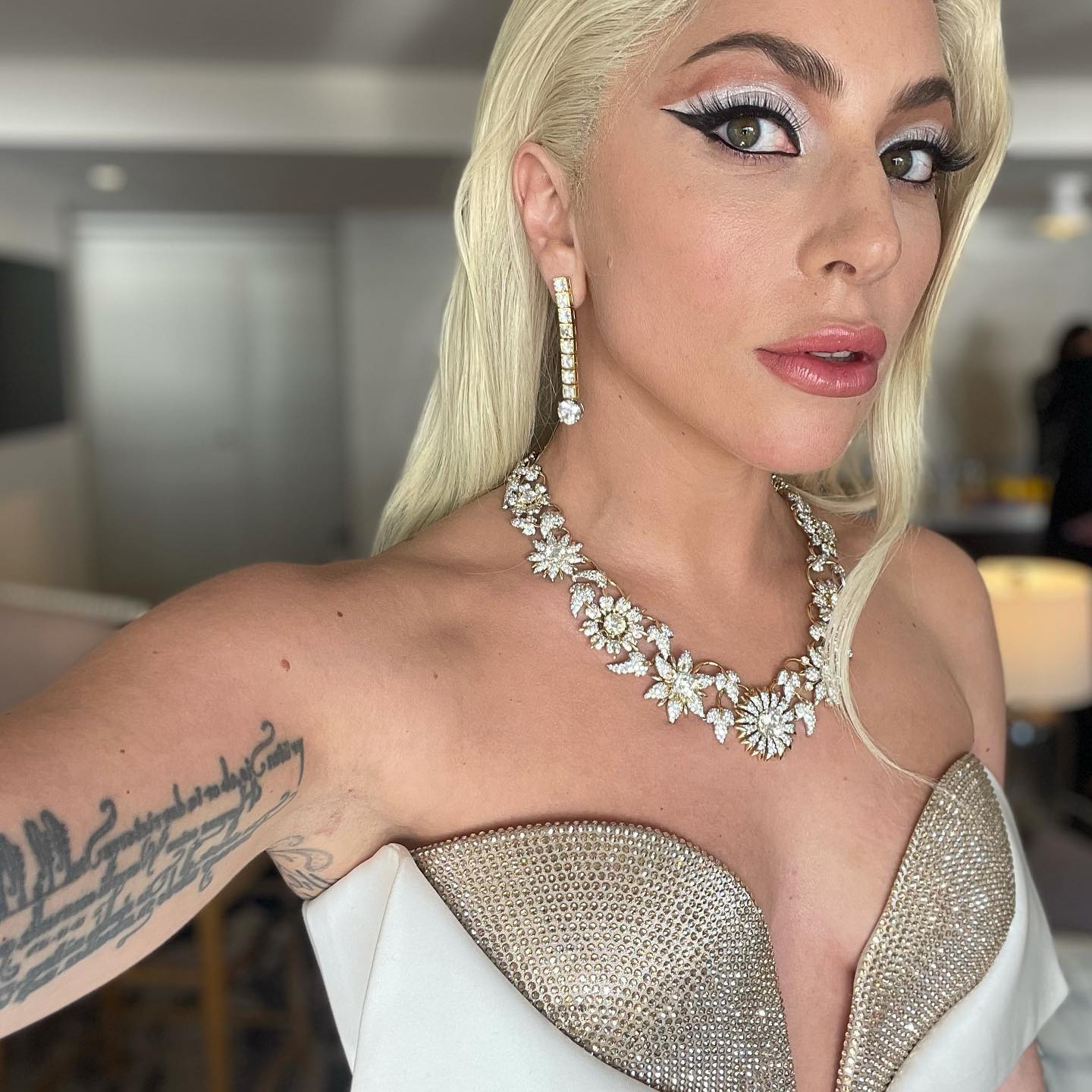 The pop icon will reportedly sing Hold My Hand, her track from the Top Gun: Maverick soundtrack. Yep, that's Best Picture nominee Maverick we're talking about here.
8.13am: Stars arrive on the red (well, champagne) carpet
With a couple of hours to go until the ceremony, stars are beginning to appear on the champagne carpet. That's not a typo – for the first time since 1961, the carpet is not a form of red.
There are reasons for this, but they're not overly… convincing.
We're all here for the gowns – 9Honey Style is bringing you all the celebrity Oscars looks here.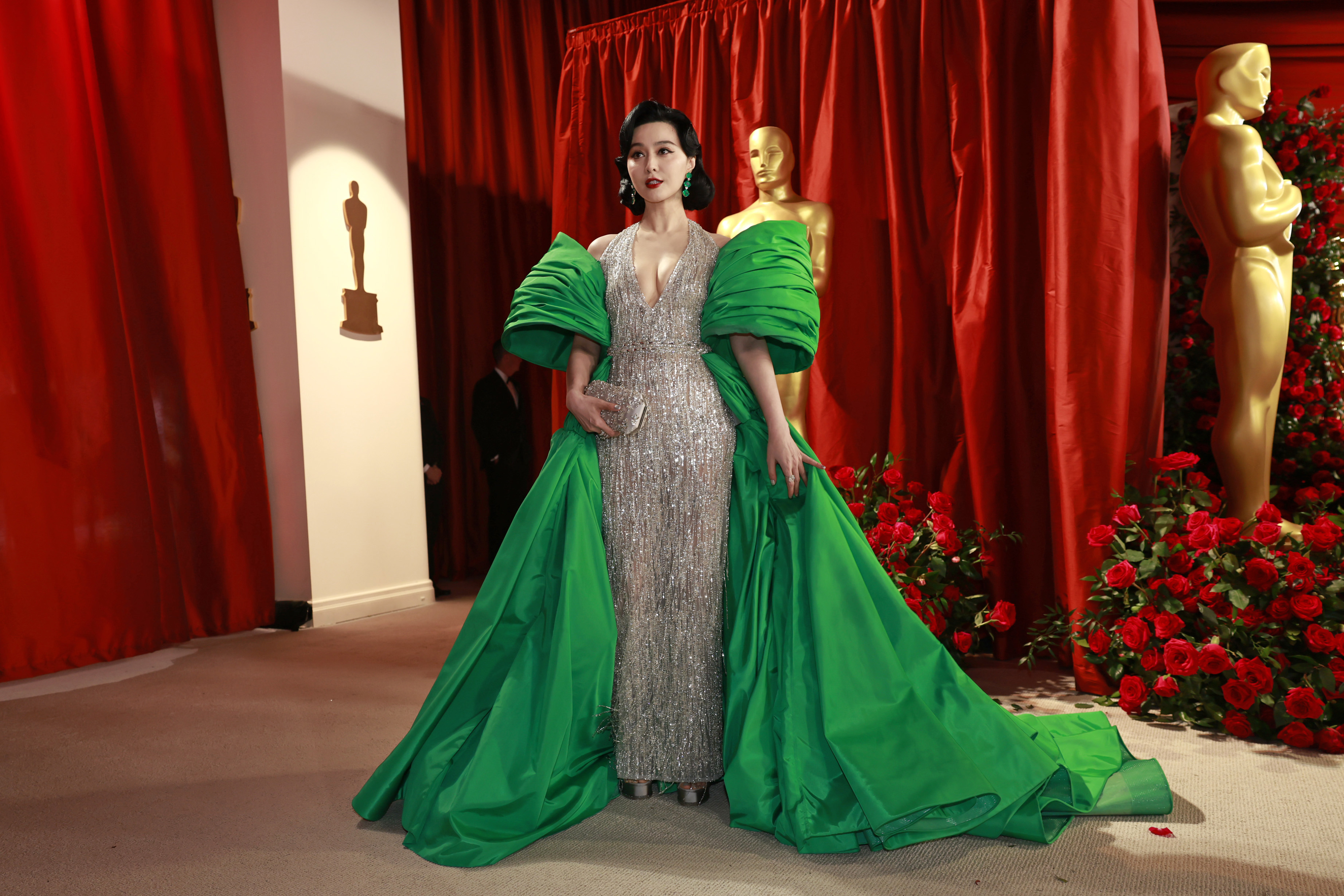 7.30am: Glenn Close cancels appearance
Hollywood screen royalty Glenn Close has been forced to pull out of presenting an award at the Oscars after testing positive to COVID-19.
Close was due to present alongside other stars Harrison Ford, Eva Longoria, Emily Blunt, Jessica Chastain, Salma Hayek Pinault, Samuel L. Jackson and Nicole Kidman.
A representative for the actress says she is now isolating and resting and will watch the event on television.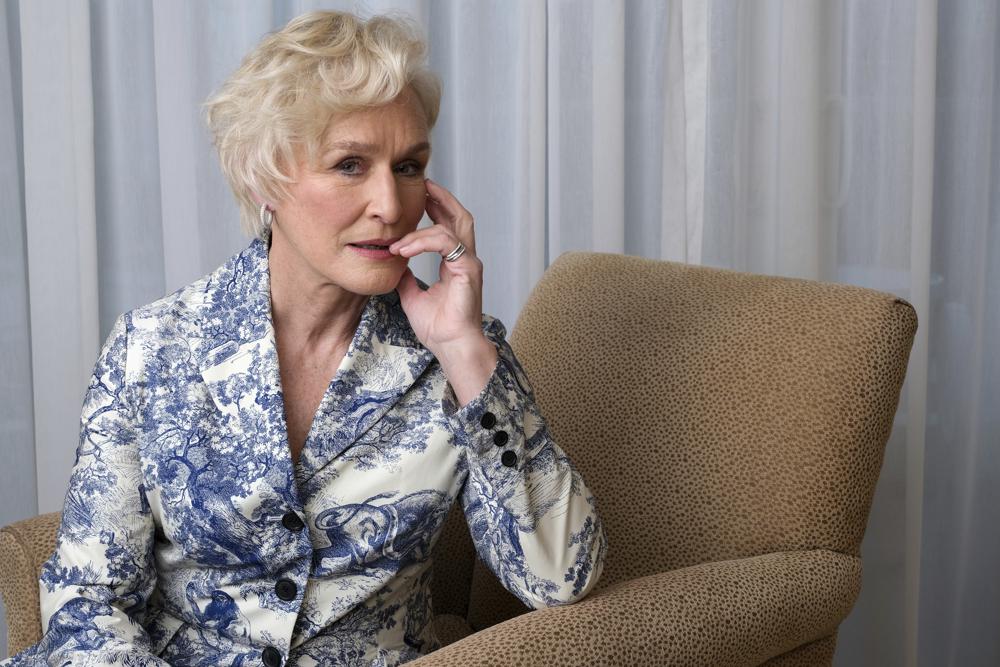 READ MORE: Everything inside the $190,000 gift bags given at the Oscars
The 75-year-old has been nominated for an Oscar eight times but has never won.
She holds the record for the most nominations in an acting category without ever winning, alongside Peter O'Toole.
Close was most recently nominated in 2021 for Best Supporting Actress for her role in Hillbilly Elegy.
The Oscars 2023 red carpet is… not actually red
It's not the ruby rug all the world's biggest stars will grace outside Los Angeles' Dolby Theatre this year – rather, the 'red carpet' will actually be champagne. It's a big move, and Jamie Lee Curtis has thoughts about the new colour scheme…
https://twitter.com/jamieleecurtis/status/1634673602011488256
The 95th Academy Awards is breaking the tradition of the red-coloured carpet, held since the 33rd annual Academy Awards in 1961, and host Jimmy Kimmel joked about the new move by making reference to another change at this year's gala – there's a "crisis team".
"People have been asking, 'Is there going to be any trouble this year? Is there going to be any violence this year?' And we certainly hope not," Kimmel said at the carpet's unveiling on Wednesday.
"But if there is, I think the decision to go with a champagne carpet rather than a red carpet shows how confident we are that no blood will be shed."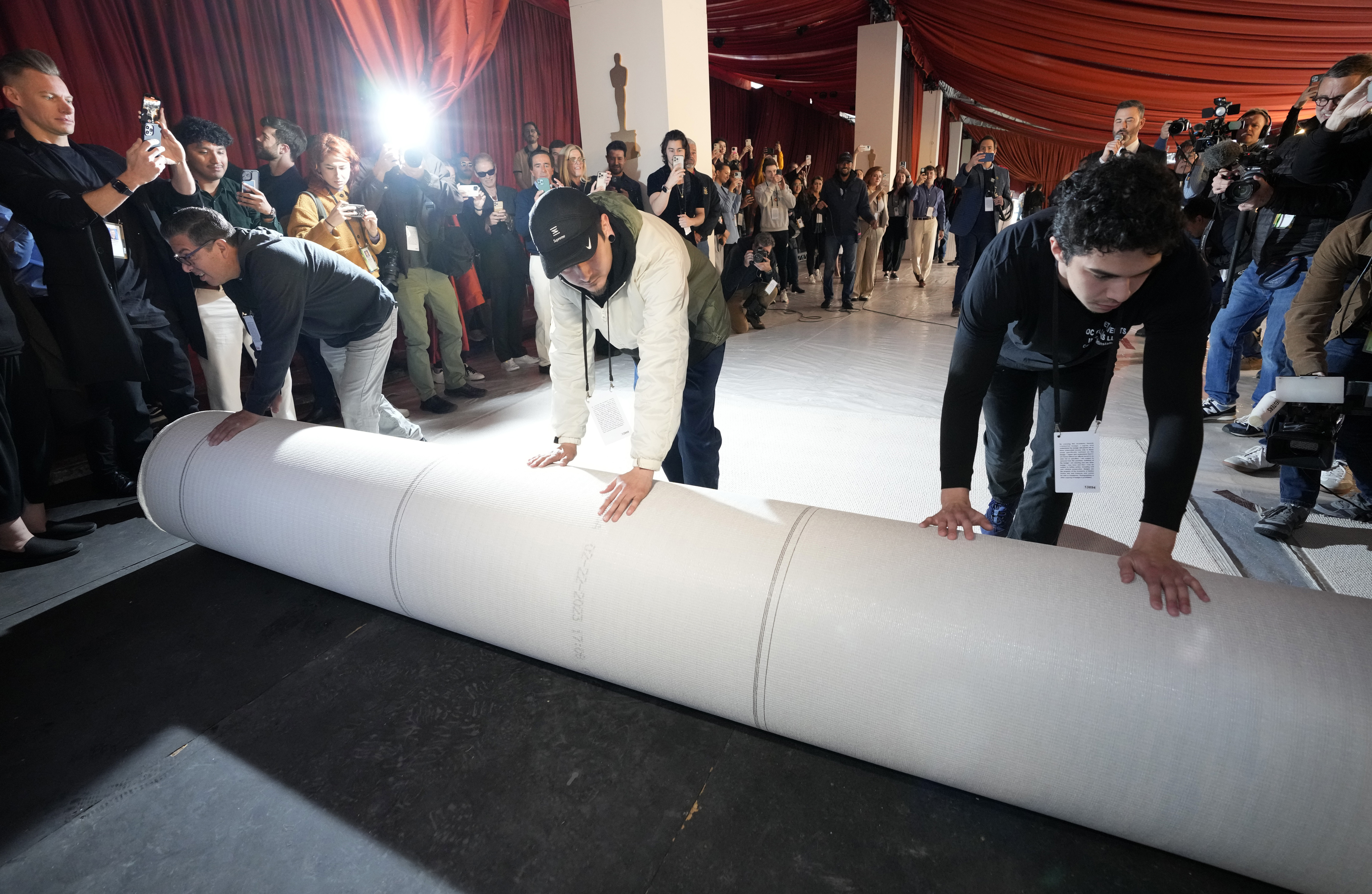 Of course, he's talking about that infamous moment between Chris Rock and Will Smith at last year's gala.
However, mud could potentially soil the stylish shots – it's currently cloudy in Los Angeles, and there is a chance of rain. Organisers – or, perhaps, the newly-minted crisis team? – have been keeping the champagne-coloured carpet covered with a plastic sheet.
Oscars after-party menu proves stars are just like us! (Except… not really)
Portions served at the Oscars have been historically infamously tiny, and the same goes for the dishes featured on the menu for one of this year's after parties.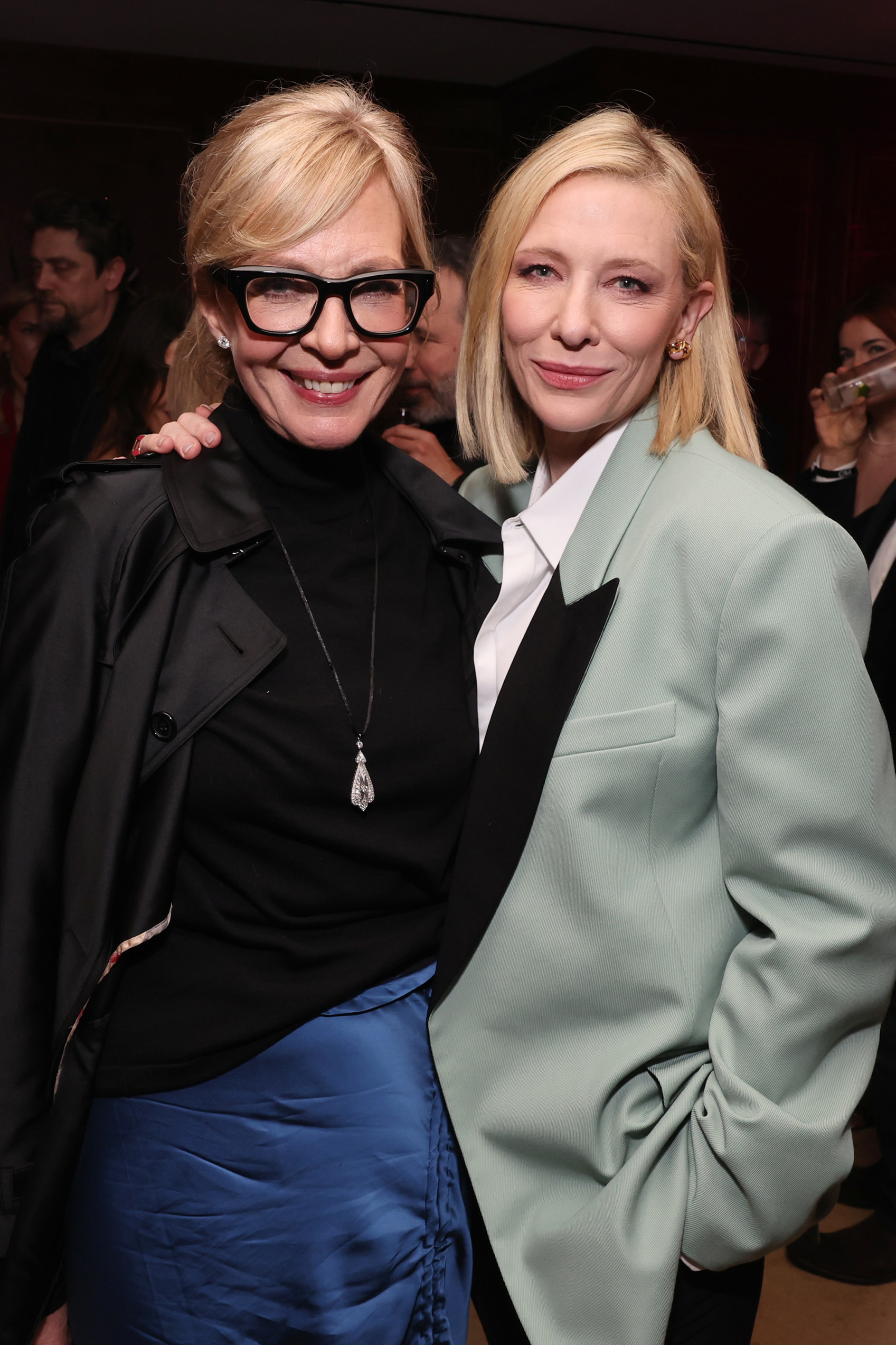 Attendees in Los Angeles will be getting a taste of the United Kingdom with pub classics like chicken pie and fish and chips – hearty meals traditionally, but they won't be getting hearty servings.
Wolfgang Puck, the master chef who has been in charge of the gastronomical offerings at Oscars after party Governors Ball for 26 years, has enlisted the help of British chef Elliott Grover of CUT London for this year's event.
Grover says he wants to serve the rich and famous with food the UK knows and loves – working-class comfort food – but, admittedly, the serving size is "four bites" and the chicken pie will be topped with shavings of the luxury that is truffle, which will be cut at the table right in front of the guests.
Click the image below to see all the best looks at the CAA's star-studded pre-Oscars party with 9Honey Style.
Hollywood's most-talked-about 'feud' back in spotlight
Florence Pugh and Olivia Wilde's 'feud' is apparently still going strong.
As Hollywood's elite descended onto Los Angeles' Sunset Tower Hotel two nights before the big event, it became very clear the former Don't Worry Darling co-workers, whose 'feud' allegedly began in 2020 and still continues with updates three years on, were seemingly avoiding each other.
According to insiders who attended the party, Pugh and Wilde, while they were happy to take photos with literally everybody else at the party – Pugh notably posed with her Don't Worry Darling co-star KiKi Layne, who also reportedly had gripes with the film's production – they were not once seen with each other.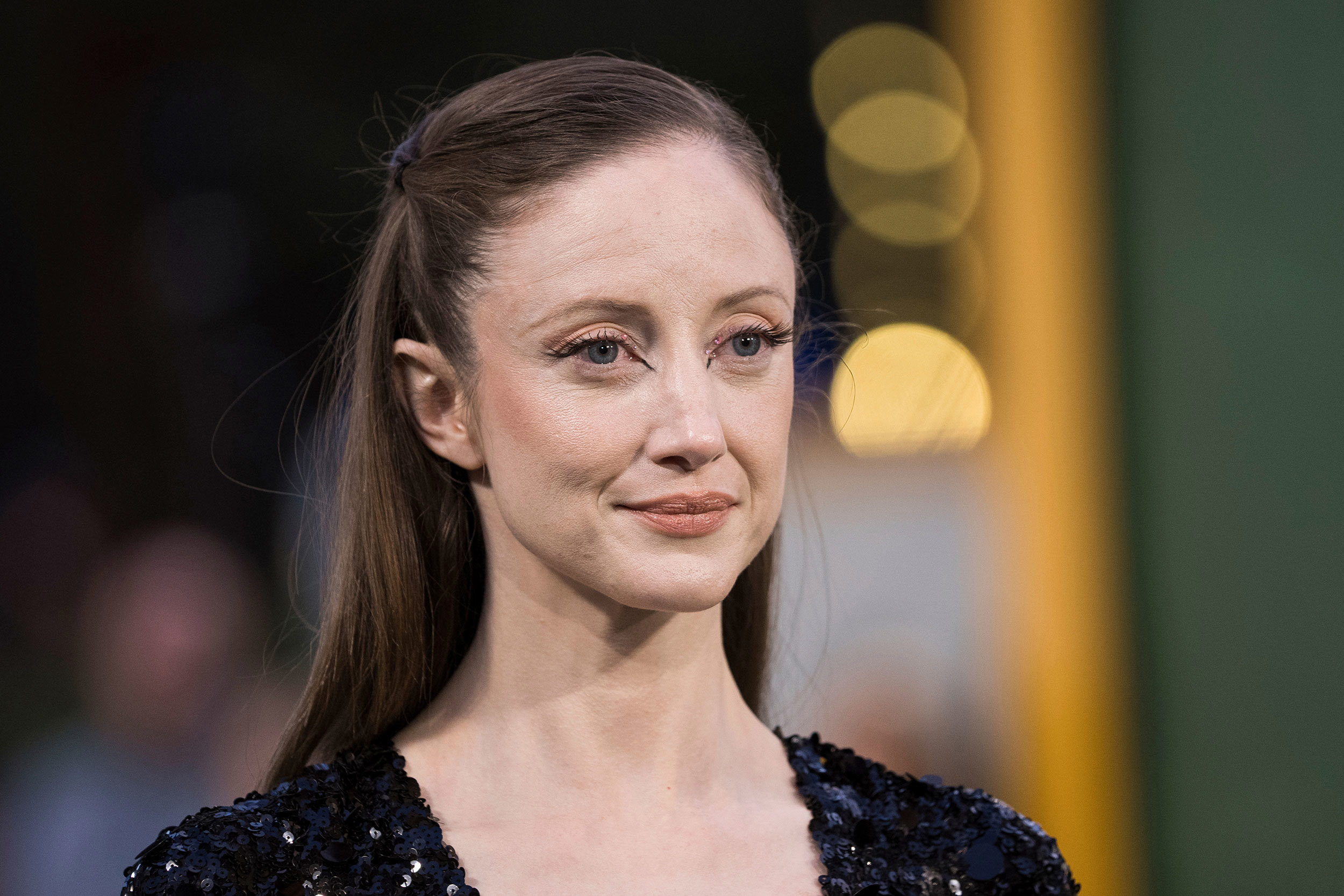 The Best Actress nominee nobody knows but everyone is talking about
You could be forgiven for not knowing the name or face of Andrea Riseborough, as not many average moviegoers do – but chances are their favourite actor does, and they want her to win an Oscar.
That was the basis of her very bizarre Oscars campaign, and ultimately, it did secure her a Best Actress nomination for her role in small-time independent film To Leslie, which was praised emphatically by those who had seen it, but that number was few.
Her campaign relied on endorsements from the likes of Gwyneth Paltrow and Amy Adams, who, cryptically, used very similar language to promote To Leslie and Riseborough in the lead up to Oscars nominations being announced.
The grassroots campaign, while it was technically not a new approach, was subject to an investigation by the Academy, which ultimately deemed Riseborough's nomination legitimate.
She's up against some fierce competition, including Cate Blanchett and Michelle Yeoh.
Read more about her campaign here.
Public calls for Top Gun: Maverick to be stripped of Best Picture nomination
Days before members of the Academy sealed off their votes and sent the envelopes, the organisers of the Oscars were called upon to reconsider the eligibility of Tom Cruise's box office hit sequel to Top Gun.
The film, released last year, is nominated in several categories, including Best Picture, Best Original Song, Best Editing, Best Adapted Screenplay, Best Sound and Best Visual Effects.
An open letter shared with various media outlets and written by Toronto-based expatriate group Ukrainian World Congress (UWC), however, takes issue with the fact part of Russian oligarch Dmitry Rybolovlev's billions-dollar fortune, as reported by multiple outlets in January, was used to fund Top Gun: Maverick through his silent investment in Los Angeles-based New Republic Pictures.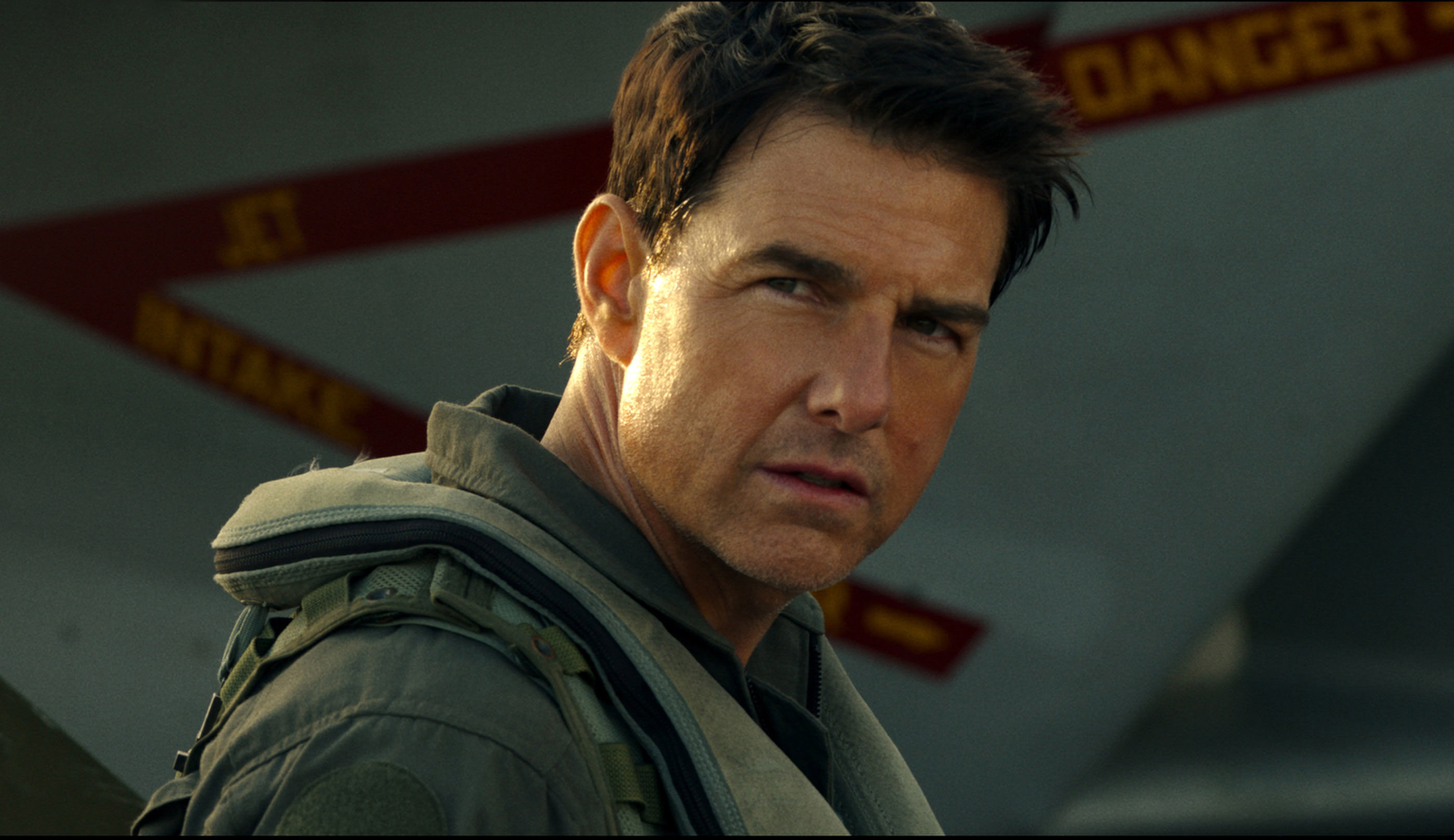 Rybolovlev officially left Russia in 2010, reportedly after being forced to sell his majority stake in Uralkali to close acquaintances of President Vladimir Putin. He has reportedly been living in Monaco ever since, though he is still on a list of Russians sanctioned by Ukrainian President Volodymyr Zelenskyy following Russia's invasion of Ukraine.
"The Ukrainian World Congress expresses its serious concerns over Russia's influence on the Hollywood film industry," Paul Grod, UWC President, wrote to Janet Yang, who is President of the Academy.
"Rybolovlev's funding of Top Gun: Maverick was not publicly disclosed and there is good reason to believe that his involvement may have led to censorship on behalf of the Kremlin," Grod claimed in the letter.
"Contrary to the original film, Top Gun: Maverick makes no direct or indirect reference to Russia. This is hardly a coincidence. Hollywood must be vigilant and transparent of Russian money being used to further pro-Kremlin censorship," he wrote.
Per Deadline, although New Republic Pictures has invested in numerous Paramount cinematic productions since 2020, it has no creative input in the films' content.
Grod, in the letter, described Rybolovlev as "one of Russia's richest oligarchs" and also "a known close friend and business partner" of Yury Trutnev, Russia's Deputy Prime Minister.
Grod also claimed Rybolovlev is Belarussian President Alexander Lukashenko's largest business partner in potash exports, and alleged he had been such for more than a decade, which, Grod claims, has aided sustaining Russia's authoritarian regime through the flow of cash.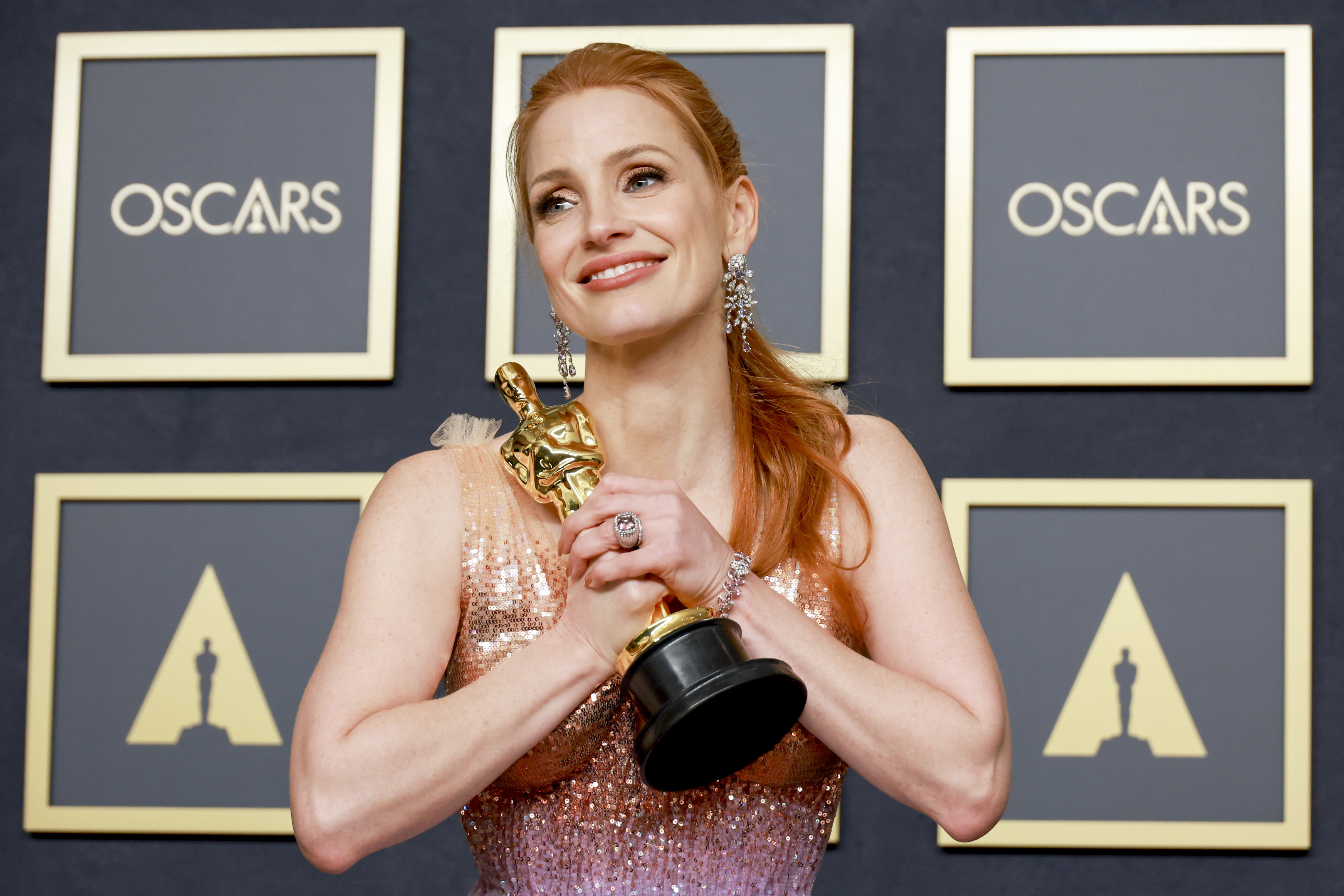 Inside the lavish $190k gift bag
If you don't win an Oscar, but you go home with a gift bag valued at $190,000, can you really be called a loser?
The gift bag – which is not directly affiliated with the Academy Awards – is supplied by a company called Distinctive Assets and this year, celebrities can expect to find Japanese milk bread, a three-night stay for eight people on a volcanic Italian island and liposuction.
Brands included in the goodie bag pay $6,000 to secure a spot in the coveted hamper, however, there is no obligation on the high-profile recipient to accept, use or promote any of the contents.
Take a peek behind the golden curtain and see what's inside guest gift bags here.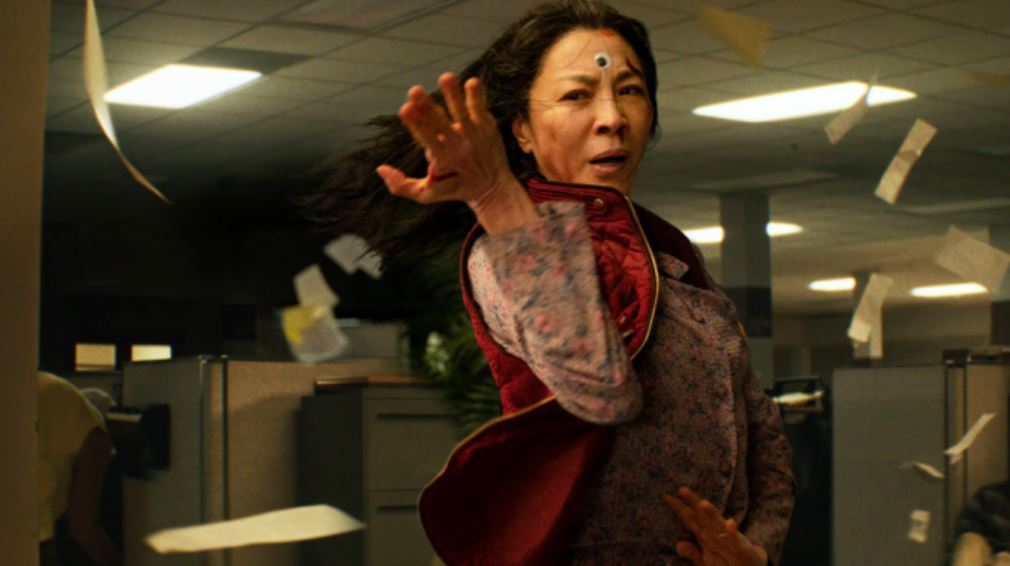 Who's nominated?
Australians are having their moment in the sun, with Baz Luhrmann's Elvis being nominated alongside nine other films in the Best Picture category, though the 60-year-old multi-hyphenate himself was notably snubbed from the Best Director category.
Cate Blanchett, meanwhile, nabbed her eighth Oscar nomination thanks to her work in Tár, being nominated under the Best Actress category for playing the conductor of a Berlin orchestra whose life unravels amid personal and professional chaos. She is, however, notably up against Michelle Yeoh for Everything Everywhere All at Once – a fierce competition.
Read the full list of nominees here.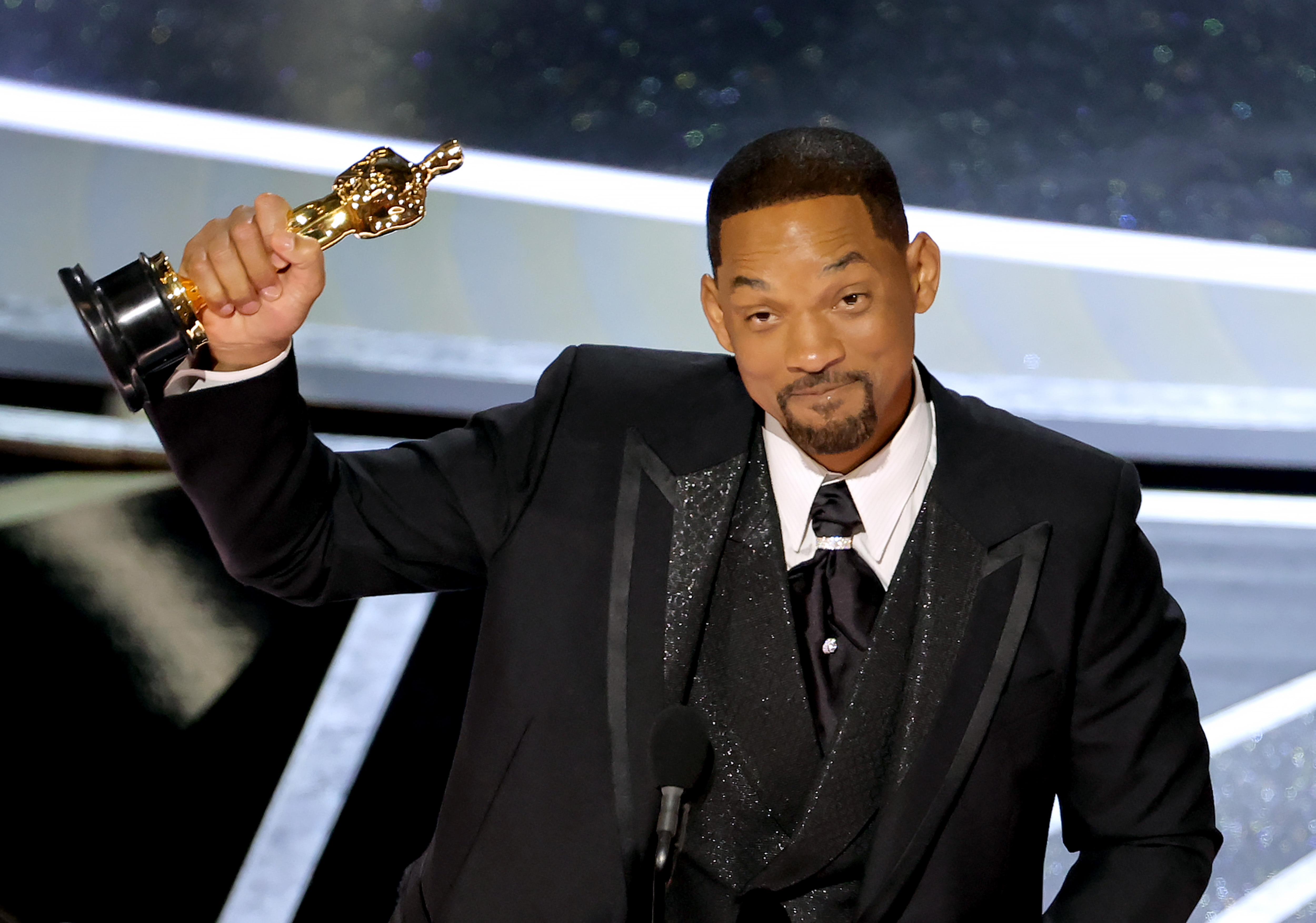 Why is Best Actor 2022 winner Will Smith not presenting at the Oscars this year?
The consequences of the slap heard around the world are still being felt a year on.
Customarily, winners of specific categories present the award the following year, and if it's a gender-specific category, it's the inverse – for example, Anthony Hopkins, who won Best Actor for The Father in 2021 presented Jessica Chastain with Best Actress in 2022 for The Eyes of Tammy Faye.
So, if tradition is anything to go by, Will Smith – who won Best Actor for his role in King Richard in 2022 – should be presenting Best Actress this year.
He, however, has not even been invited from the ceremony. In fact, after slapping Chris Rock at last year's gala, he resigned from the Academy, and was banned from all Academy-related events for 10 years.
Click the image below to see all the most iconic fashion looks at Oscars' past over on 9Honey Style.
A look back at some of the most iconic and stylish Oscars ensembles
As the world awaits a glimpse at the glamorous stars traipsing across the ruby rug, let's take a look back at some of the most iconic Oscars ensembles throughout history.
When the first Oscars took place in 1929, it was conceptualised to celebrate the best of the best in Hollywood.
However, just 10 years later, celebrities began to harness the prestigious power of the Academy Awards red carpets to vent frustrations, protest war and treatment within Hollywood, or open the door to more outrageous, boundary-pushing fashion.
From Cher to Barbra Streisand to Natalie Portman and beyond, head on over to 9Honey Style to feast your eyes on fashion moments at the Oscars that had everyone talking.
For a daily dose of 9Honey, subscribe to our newsletter here