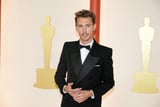 Austin Butler seems to be slowly distancing himself from his role as Elvis Presley. The actor spent the last several years immersed in everything Elvis leading up to the release of the Baz Luhrmann-directed biopic in 2022. As the film continues to make its way through the award-season circuit, questions have swirled around Butler's enduring commitment to the role – namely, his continued use of the late rock icon's distinctive accent.
In an appearance in a Feb. 3 episode of "The Graham Norton Show," Butler said that he felt briefly "self-conscious" when his publicist told him people online were talking about his much-discussed drawl, but he's working on it. "I am getting rid of the accent, but I have probably damaged my vocal cords with all that singing," the actor said, per Entertainment Weekly. "One song took 40 takes." However, the accent still seemed to be present when he attended the 2023 Oscars on March 12.
Butler is set to appear in Denis Villeneuve's second "Dune" movie as the villainous Feyd-Rautha Harkonnen, who certainly shouldn't have an Elvis-esque accent. Fortunately, according to costar Dave Bautista, Butler metamorphosed into someone entirely new for the role. "I don't know who this guy was, but it's not Austin Butler," Bautista told USA Today of Butler's performance. "It's not Elvis. His voice is different, his look is different. Everything about his demeanor is terrifying." Bautista went on to describe the real-life Butler as "just the sweetest guy you'll ever meet."
Butler's Elvis accent was especially present at the 2023 Golden Globes, where Butler's portrayal of Presley in "Elvis" earned him the award for best performance by an actor in a motion picture, drama. Ahead of the show, Butler insisted that he didn't think he still sounded much like the King of Rock and Roll. When asked about his lingering accent, Butler told E! News that the accent was "hard" for him to talk about. "I can't really reflect on it too much. It's just this process – I don't know the difference," he admitted. Following his win, he added that he personally didn't hear the similarity anymore. "I don't think I sound like him still, but I guess [it must be] because I hear it a lot," he said in the press room via Variety. "I often liken it to when somebody lives in another country for a long time," he continued. "I had three years where [Elvis] was my only focus in life, so I'm sure there's just pieces of my DNA that will always be linked in that way."
Despite his comments, it came as no surprise that Butler thanked Presley in his Golden Globes acceptance speech – his newfound affectation in tact. "You were an icon, and a rebel, and I love you so much. You are remembered, and I will never forget." At the sound of the music playing him off, Butler joked, "You could at least play 'Suspicious Minds' or something."
Butler previously addressed his tendency to slip into Elvis's accent in a June interview with Entertainment Tonight, saying it was something he couldn't control. "At this point, I keep asking people, 'Is this my voice?' because this feels like my real . . . It's one of those things where certain things trigger it," Butler said. "When you live with something for two years and you do nothing else, I think that you can't help it. It becomes a fiber of your being."
The accent was also apparent at the 2022 Met Gala. Butler attended the event with Priscilla Presley. In a red carpet interview with La La Anthony for Vogue, the accent was noticeable. His typically deep voice this time bore a lethargic Southern drawl, which is unusual for Butler, who was born and raised in Southern California, far from Presley's Memphis. Upon further investigation, the accent is also present in other interviews after Butler was cast in "Elvis," including at the "Once Upon a Time in Hollywood" premiere in 2019.
Butler hasn't yet stated if he took a method approach to the role, an all-consuming technique previously used by Daniel Day-Lewis, Hilary Swank, and Jared Leto, among others. Butler did, however, isolate himself during a pause in production due to the pandemic and turned his apartment into a sort of Presley temple with walls of photos. "Unless I immerse as much as I possibly can, I'm going to feel like a fraud," he recalled thinking in the May 2022 issue of Vogue.
Luhrmann implied the accent was always there, lurking beneath the surface. The director told Vogue, "From the moment I met Austin, he was carrying something of Elvis with him. He had a hint of the swagger, a touch of the sound." Tom Hanks, on the other hand, worried Butler and Presley could become too entwined. (Hanks portrays Presley manager Colonel Tom Parker in the film.) "Making a film, especially this one, is an all-in, relentless marathon. The body and psyche take on a heavy burden," he said. "An actor's soul benefits from some daily detour."
"I set out to make my voice identical to his."
In addition to nailing Presley's speaking voice, Butler also had to manage singing (yes, that's really him singing throughout the film). To prepare, Butler did vocal coaching nearly seven days a week for a year before filming began. "When I began the process of this I set out to make my voice identical to his," he told The AU Review. "That was my goal, that if you heard a recording of him and heard a recording of me, you wouldn't be able to tell the difference."
Vanessa Hudgens, who dated Butler for eight years, once said he was born to play the role. In a 2019 "Live With Kelly and Ryan" appearance, Hudgens said she first realized the resemblance when Butler sang along to a Presley Christmas song on a drive one day. She told him, "I don't know, but we need to figure out how you can play Elvis. I don't know how to get rights or what we do, but you need to play him. It is your calling." The following month, Butler learned Luhrmann was working on a biopic. Hudgens added, "You have to be careful with what you say, because things happen."