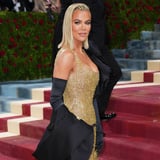 We're finally getting a closer look at Khloé Kardashian's baby boy! Kardashian posted a birthday tribute to her ex Tristan Thompson on Instagram on March 13, and it features a carousel of photos that includes a few shots of her new baby.
"Happy birthday @realtristan13," Kardashian wrote in the caption. "You are truly the best father, brother & uncle. Your love, attention, silly dances, hugs, carpool rides, bed time rituals, the way u show up for them. All of the above means more than you'll ever know to your family of littles. My birthday wish for u is that u continue to crave change, healing, and transformation. Be strong, be kind, be patient, be free. Continue to Make your soul and your mommy proud. Happy birthday baby daddy."
After the 38-year-old reality TV star welcomed her second child with Thompson via surrogate back in August 2022, Kardashian gave the world a first glimpse of her son on Instagram on the day before Halloween. "Owlette and Tigger aka True and Baby Brother. (Shhhhh…. But I can't wait for Halloween to be over)," Kardashian captioned a couple of Instagram photos of her 4-year-old daughter, True Thompson, and her baby boy, whose name has yet to be revealed.
A rep for Kardashian first confirmed that she and her 32-year-old ex were expanding their family in July 2022. "We can confirm True will have a sibling who was conceived in November," Kardashian's rep told People. "Khloé is incredibly grateful to the extraordinary surrogate for such a beautiful blessing. We'd like to ask for kindness and privacy so that Khloe can focus on her family."
Kardashian and Thompson dated on and off from 2016 to 2021. Despite welcoming another baby together, Kardashian and Thompson have not rekindled their romance. "[Kardashian] and [Thompson] are not back together and have not spoken since December outside of co-parenting matters," a source told Entertainment Tonight in July 2022. Another insider added that Kardashian "will have the baby full time" but "wants [Thompson] in both the kids' lives as much as he wants to be."
In October 2022, Kardashian told Kelly Clarkson that she was still learning how to "unlove" Thompson. "When I said, 'I'm learning how to unlove Tristan,' I think people, whether it be family or friends or anyone that you're telling your story to, they're like, 'OK, so move on!' And I'm like no . . . like, it's not that easy," Kardashian explained. "Just even the habits that you built, the repetition, the routine, that when something good happened, I would call Tristan, or something bad or . . . that's what I did. Any little thing, I would share my life with him."