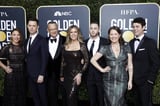 Tom Hanks is one of the most decorated and beloved actors of all time, and he's also a husband, grandfather, and father of four. The two-time Oscar winner has played everyone from Walt Disney ("Saving Mr. Banks") and Mister Rogers ("A Beautiful Day in the Neighborhood") to war heroes ("Saving Private Ryan" and "Forrest Gump") and Woody the pull-string cowboy rag doll (the "Toy Story" series).
Tom had his oldest two children, Colin and Elizabeth Hanks, with his first wife, Samantha Lewes, whom he divorced in 1987 (she later died in 2002). He then married actor and singer Rita Wilson in 1988, and the two have two children, Chester "Chet" Hanks and Truman Hanks.
In 2020, Tom thanked his family in an emotional speech when he was honored with the Cecil B. DeMille Award at the Golden Globes. "A man is blessed with a family sitting down front like that," he said. "A wife who is fantastic in every way. Who has taught me what love is . . . Kids who are braver and wiser than their old man is. I can't tell you how much your love means to me." All four of the actor's kids were also in attendance with him at the event.
Pretty much all of Tom's kids have followed him into the entertainment industry in some way, but in December 2022, Tom waded into the nepotism debate to defend them. He told Reuters, "Look, this is a family business. This is what we've been doing forever. It's what all of our kids grew up in. . . . If we were a plumbing supply business or if we ran the florist shop down the street, the whole family would be putting in time at some point, even if it was just inventory at the end of the year."
Read ahead to learn what we know about Tom's four children – and meet his three grandchildren.