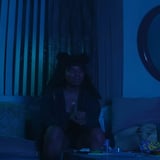 Image Source: YouTube user Prime Video
A thrilling new horror series is coming to Prime Video called "Swarm." The show comes from the minds of Donald Glover and Janine Nabers, who previously worked together on the music-based series "Atlanta." In their latest project, "The Hate U Give" actor Dominique Fishback plays Dre, a young woman who goes to extreme lengths to fuel her obsession with a pop star named Ni'Jah.
Viewers got their first look at Ni'Jah with the arrival of the show's teaser trailer on Feb. 10. Even though "Swarm" hasn't premiered yet, her character has already been creating a huge buzz online thanks to her resemblance to Beyoncé. The show's official trailer, which dropped on Feb. 24, only fueled those theories by seemingly including a few nods to the singer. With this in mind, you may be wondering whether Ni'Jah's character was actually inspired by Beyoncé and just how much of "Swarm" was based on real-life events and people. Let's get into it.
Is "Swarm" Based on a True Story?
"Swarm" isn't based on a true story, however, it seems to pull from tropes surrounding stan culture. According to Rolling Stone, the term "stan" is a reference to Eminem and Dido's 2000 single of the same name, which is all about an obsessed fan whose actions become increasingly more alarming as the song goes on. In April 2019, Merriam-Webster officially added "stan" to its dictionary to mean "an extremely or excessively enthusiastic and devoted fan." (Though, in recent years, "stan" has been used to refer to fans in general.)
Just like how "Swarm" depicts, devoted fans of a celebrity usually give themselves a fandom name in order to build community. In the series, Ni'Jah's fans are known as the Swarm. Real-life examples of fandoms are Beyoncé's Beyhive, Nicki Minaj's Barbz, and BTS's ARMY.
"Swarm" shows that fans often communicate with one another online, usually through Twitter, and some even have social media accounts dedicated to posting about their favorite celebrity. While this is typically harmless, it can lead some fans toward obsessive behaviors. For example, in the "Swarm" trailer, Dre appears to be so obsessed with Ni'Jah that she opens a credit card to buy concert tickets that are worth nearly $2,000, and she becomes so consumed by her love of Ni'Jah that she travels the country to meet the star, getting wrapped up in a murder in the process.
Is Ni'Jah Based on Beyoncé?
Ni'Jah shares a few similarities to Beyoncé. Apart from the fact that they're both super-famous pop stars, Ni'Jah and Beyoncé clearly have similar-sounding fandoms. Beyoncé has her Beyhive (pronounced beehive), and Ni'Jah has her Swarm. Both also call their idols "Queen." The "Swarm" trailer seemingly draws a connection between the two fandoms by having Dre fascinated by a swarm of bees. The bees' buzzing sound continues throughout the video and is even heard after a conversation when someone mentions Ni'Jah's "more spiritual" sister, which could be a nod toward Beyoncé's sister Solange Knowles (who has a successful music career of her own). As if that wasn't enough similarity, the show's cast also includes Beyoncé's musical protégé Chlöe (who's one-half of the duo Chloe x Halle) as Dre's sister, Marissa.
Nabers addressed the Beyoncé comparisons in a March 6 interview with Billboard. While Ni'Jah may have been partly inspired by the "Cuff It" singer, Nabers said the fictional pop star was actually inspired by more than one celebrity. "For us, it was really about finding the feeling that someone gives to Black women in America," she said. "If you ask [Black women] who is the representation of them in the words of music and song and unapologetic Black girl realness, everyone's gonna have different answers. It's really about allowing us to see that Ni'Jah is that person for Dre."
"Swarm" premieres on Prime Video on March 17. Watch the show's teaser trailer below.