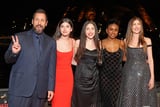 "Saturday Night Live" vet and "Murder Mystery 2" star Adam Sandler and his wife Jackie Sandler are all about the movies. The two met on set for his film "Big Daddy" and since then, Jackie has continued to have roles in many of Adam's films. Better yet, Adam and Jackie's daughters, Sadie and Sunny, are in the business too, and often have their own parts in Adam's films. Adam and Jackie's daughters are just as talented as their famous parents and look right at home on the big screen.
During an appearance on "The Ellen DeGeneres Show" in April 2017, Adam revealed that his kids aren't exactly big fans of his movies. When asked if he ever screens his films for his children, Sandler replied, "They beg to see them. They're like, 'Please, it's not fair! Let me watch your movies. Those people always yell things at you on the street. I don't know what the heck they're talking about.'"
However, Adam confessed that his daughters weren't very interested in some of his movies like "Grown Ups" and "Jack and Jill." "I'd say about 20 minutes in I see them tuning out, and then I hear them," Adam told host Ellen DeGeneres. "They're nervous to say it, but [they're] like, 'Can we watch something else?'"
For more on the Sandlers' daughters, keep reading.
Sadie Sandler
Sadie Sandler was born on May 6, 2006. She is Adam and Jackie's oldest daughter. Adam and Jackie had Sadie in Los Angeles three years after they got married, and Adam has said that becoming a dad changed his life. He told Access soon after Sadie was born that he was terrified while Jackie was in labor, but that he was so excited. "I had a chemical reaction in my body, where I loved the kid so much, and I was so nervous for her, and that's when I lost my mind for the kid." He also said that he goes all out for his children, including dressing up to tell them bedtime stories, according to the Irish Examiner.
Sunny Sandler
Sunny Sandler was born Nov. 2, 2008. She is Adam and Jackie's youngest daughter. Sunny was also born in Los Angeles, where Adam and Jackie have called home for years. Sunny, along with her older sister, Sadie, can often be found in Adam's movies (as can Jackie!). They've had parts in several of his films, including those that his production company, Happy Madison, produces, that he's not necessarily in. They were both in "The Wrong Missy" on Netflix alongside their mom. But even though Adam keeps putting his daughters in his movies, he still keeps them away from any of his grittier roles, namely his performance in Uncut Gems. He told Closer Weekly, "I'm nervous about when they're old enough to see this that they're going to be disappointed in my behavior."
See photos of Adam's daughters ahead.