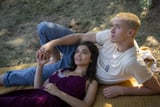 The teaser poster for the highly anticipated "Hunger Games" prequel movie, "The Ballad of Songbirds and Snakes," has arrived. On March 25, Lionsgate unveiled the poster, which features a golden bird and snake preparing to do battle against a dramatic black background.
Previously, Lionsgate debuted a first-look photo from the prequel. The image, released in August of last year, shows Zegler's Lucy Gray Baird and Blyth's young Coriolanus Snow sharing a quiet moment together cuddled up. The official Lionsgate account wrote alongside the photo on Twitter, "This is a story about love. And we love all kinds of things we don't trust."
"The Ballad of Songbirds and Snakes" cast features big names like Viola Davis, who will star as Dr. Volumnia Gaul, the head gamemaker for the 10th annual Hunger Games – but she's not the only award-winning name to sign onto the film. In 2022, Deadline reported that Emmy winner Peter Dinklage joined the cast as Casca Highbottom, the dean of the Academy. "Euphoria" star Hunter Schafer also stars in the film Tigris Snow, Coriolanus's cousin and confidante who advises him on everything, according to Lionsgate.
Lionsgate announced at CinemaCon last April that the movie is currently in production and will be released Nov. 17, 2023. The forthcoming movie is based on Hunger Games author Suzanne Collins's prequel of the same name that was released in May 2020. The plot revolves around an 18-year-old Coriolanus, who is chosen to mentor Lucy – a tribute from District 12 during the 10th Hunger Games – while attending the academy in the Capitol.
The story's events take place 64 years before the original novels and films and only 10 years after Panem's first rebellion. While Katniss Everdeen's Panem is under harsh government control, this Panem is still grappling with the aftereffects of the war. At CinemaCon, Lionsgate played footage from the movie but didn't reveal any more specifics. The brief clip only showed icy tree branches, along with text that read, "The world will discover who is a songbird and who is a snake."
The original Hunger Games movies starred Jennifer Lawrence as Katniss, the unlikely and reluctant hero who becomes the symbol of a revolution. Lawrence was joined by Josh Hutcherson, Liam Hemsworth, Amandla Stenberg, Woody Harrelson, Elizabeth Banks, Stanley Tucci, Lenny Kravitz, and "Daisy Jones and the Six" star Sam Claflin. Donald Sutherland played the menacing President Coriolanus Snow in the original films.
Read ahead for everything we know about "The Ballad of Songbirds and Snakes" so far, including the cast, plot, release date, and more.