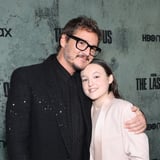 On April 2, the internet's favorite "daddy," Pedro Pascal, turned 48, and his "The Last of Us" costar Bella Ramsey (who is nonbinary and uses she/her or they/them pronouns) took a moment to celebrate her onscreen surrogate dad. Ramsey shared a series of behind-the-scenes photos from the hit HBO show that showed off the many sides of Pascal's personality.
In the first pic, Pascal is looking cool in some uniquely shaped shades while rocking his full Joel costume. Then, in the second, he's covering his ears and pulling a face, while the third photo sees him rocking overalls and arching his eyebrow as he tries to take the perfect snap of an artfully arranged stack of scripts. Ramsey also included a picture of her costar taking a cat nap on set and a sweet moment where he was communing with his horse scene partner. She captioned her Instagram carousel, "Happy P-Day."
Ramsey isn't the only one celebrating "P-Day," though. Marvel star Mark Ruffalo shared his own post honoring the versatile actor on his special day. "Sending so much love to my good friend," he captioned a black-and-white photo of the two of them together. "Such a joy watching him thrive. It's so well-deserved. Happy birthday @pascalispunk! 🥳"
Meanwhile, Ethan Hawke gave Pascal a birthday shout-out via his Instagram Stories. "It's your world and we're living in it," the "Glass Onion" actor wrote.
Hawke might be on to something, because Pascal is certainly having a moment. In addition to starring on "The Last of Us," he also plays Din Djarin on Disney+'s "The Mandalorian" and starred in the instant Nicolas Cage cult classic "The Unbearable Weight of Massive Talent" in 2022. In a January interview with Wired, the actor reflected on his recent success and shared that he would never take for granted the people who helped him along the way.
"I didn't get 'Game of Thrones' till I was in my late thirties," he explained. "And therefore, the amount of times I was helped, and the amount of people that I could rely on through some really tough times – I'm never going to let some of them ever buy dinner again. I want to take care of people as much as they took care of me."
Is it any wonder his friends and costars are celebrating Pascal on his birthday? Even as his star continues to rise, he remains devoted to taking care of the people around him – and as Ramsey's photos illustrate, he's not opposed to having plenty of fun along the way.