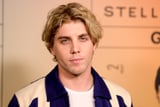 Lukas Gage may have been a Hollywood newcomer when he burst onto the scene with breakout roles on "Euphoria" and "The White Lotus." But his impressive résumé has only grown since with his other standout projects, including "You" season four and "How to Blow Up a Pipeline." Beyond his intriguing onscreen roles, Gage is also hilarious and relatable in real life – and officially off the market!
On April 5, multiple outlets reported that the 27-year-old actor is engaged to celebrity hairstylist Chris Appleton. Gage has yet to publicly comment on the news, and it's likely he won't, since he's not too keen on sharing details about his private life. In an interview with The New York Times, published on March 9, he said, "I'm a pretty open book about most things in my life, but I have a problem with the culture of everyone needing to know everybody's business and nothing can be sacred. It's a weird line that I'm still trying to figure out."
But no worries if you're curious about other aspects of Gage's life. He actually is pretty candid when it comes to his career and the roles he takes on – even if they involve him baring it all to the world. "I guess I'm a little more European in my thoughts on nudity right now. I'm not begging to take my clothes off, but I'm comfortable with it," he previously told The Hollywood Reporter.
From indulging in reality-TV shows to having an impressive acting origin story involving warts, Gage has quite a fascinating life. Read ahead for fun facts about the California native that prove all of this and more.