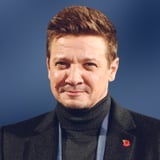 Just 10 weeks after Jeremy Renner survived a dangerous snowplow accident at the beginning of 2023, new details continue to emerge. In late January, revelations about Renner's New Year's Day snowplowing incident revealed that the "Avengers" actor had been saving his nephew Fries when the accident occurred. Per an incident report obtained by CNN from the Washoe County Sheriff's Office, the PistenBully snow groomer was sliding toward Renner's nephew when he attempted to jump back onto the snowplow to engage the break. He was pulled under the vehicle's track in the process.
"The PistenBully snow groomer began sliding causing Renner to exit the vehicle without setting the emergency brake," the report read. "Although the Pistenbully had some mechanical issues, it is believed based on our mechanical inspection that the parking brake would keep the Pistenbully from moving forward. When Renner attempted to stop or divert the Pistenbully to avoid injury to (his nephew), he was pulled under the vehicle by the track and run over."
The report also revealed Renner was using the snowplow to help his nephew move his truck from a driveway, and that his nephew was able to assist the actor until help arrived after he was crushed by the Pistenbully.
On Jan. 3, a spokesperson for Renner confirmed to CNN that he had suffered "blunt chest trauma and orthopedic injuries" and was in the intensive care unit in "critical but stable condition." While reps for Renner did not respond to POPSUGAR's request for comment, according to CNN, the Avengers star underwent at least two surgeries.
In an additional statement to People shortly after the accident, Renner's rep said, "Jeremy's family would like to express their gratitude to the incredible doctors and nurses looking after him, Truckee Meadows Fire and Rescue, Washoe County Sheriff, Reno City Mayor Hillary Schieve and the Carano and Murdock families. They are also tremendously overwhelmed and appreciative of the outpouring of love and support from his fans."
After details first emerged about Renner's terrifying accident, stars like Mark Ruffalo, Josh Gad, and James Gunn all shared their well wishes for the actor on social media. "Prayers up for our brother @jeremyrenner on a full and speedy recovery," Ruffalo posted on his Instagram Stories on Jan. 9.
Renner gave fans an initial update on his condition on Jan. 3, posting a photo from his hospital bed on Instagram. "Thank you all for your kind words. 🙏," he captioned it. "Im too messed up now to type. But I send love to you all." Shortly after, supportive comments from fellow celebrities poured in, including Vanessa Hudgens, who wrote back, "Sending so much love n healing!"
On Jan. 5, Renner shared another update on his recovery, posting a video on his Instagram Stories of his mom and sister comforting him while giving him a head massage in the hospital. "ICU SPA MOMENT TO LIFT MY SPIRITS," he captioned it.
Image Source: Instagram user jeremyrenner
The following day, the actor offered a new update when he shared a picture of himself surrounded by his medical team on his Instagram Stories. He captioned the photo, "Thank you renowned medical ICU team for beginning this journey."
Image Source: Instagram user jeremyrenner
On Jan. 16, Renner confirmed that he had returned home and was feeling well enough to watch the premiere of the second season of his show "Mayor of Kingstown." "Outside my brain fog in recovery, I was very excited to watch episode 201 with my family at home," he wrote on Twitter late that evening in response to a tweet from the show's official account.
Then, on Jan. 21, the "Hawkeye" actor thanked his family, friends, and fans for their support since his accident and posted a new photo on Instagram alongside a caption with new details about the extent of his injuries.
"Morning workouts, resolutions all changed this particular new years …" Renner captioned a photo of himself appearing to receive physical therapy. "Spawned from tragedy for my entire family, and quickly focused into uniting actionable love ❤️." He continued, "I want to thank EVERYONE for their messages and thoughtfulness for my family and I …. Much love and appreciation to you all. These 30 plus broken bones will mend, grow stronger, just like the love and bond with family and friends deepens . Love and blessings to you all."
In a since-deleted Feb. 27 Instagram Story, via E! News, Renner posted a video of himself working out on an exercise bike, captioning it, "whatever it takes." In the next slide, he shared a photo of a book called "Book of Awakening" along with the caption, "Mental recovery too."
What Has Jeremy Renner Said About His Snowplow Accident?
In an April 6 clip from Renner's interview with Diane Sawyer, the actor, 52, shared that while lying in the snow after being crushed by a 14,000-pound machine, he thought he was definitely going to die.
"If I was there on my own, that would have been a horrible way to die," he said. "And surely it would've. Surely. But I wasn't alone. It was my nephew, sweet Alex, and the rest of the cavalry came," he continued, referencing his adult nephew Alexander Fries, who was by his side during the incident. As he prepared for the end, he said, "I'm writing down notes on my phone . . . the last words to my family."
In the excerpt of Renner and Sawyer's special, the actor's nephew recalled a bit about what the event was like. "I see him in a pool of blood coming from his head," Renner's nephew said. "I ran up to him. I didn't think he was alive."
Also in the ABC News clip, Renner's neighbor Rich Kovach recounted witnessing the harrowing event. Renner "was just in such pain," said Kovach, recalling "the sounds that were coming out of him – and there was so much blood in the snow . . . . And then when I looked at his head it appeared to me to be cracked wide open. I could see white, I don't know if that was his skull . . . Maybe it was just my imagination but that's what I thought I saw."
Despite the trauma he endured, Renner is making it clear that he's choosing resiliency. He wants to "shift the narrative of being victimized, or making a mistake, or anything else." Said Renner, "I refuse to be f*cking haunted by that memory."
Renner's interview with Sawyer, which was released in full on April 6, gave fans the most in-depth account of the accident yet. In an ABC News teaser shared on March 29, the actor explained why he was sitting down with Sawyer for his first televised interview since the incident and detailed some of what it was like.
"I was awake through every moment," he said, recalling the accident that resulted in eight broken ribs, a punctured liver, and a collapsed lung. But Renner emphasized that he was determined to push through. "I chose to survive. That's not gonna kill me, no way," he noted. "I've lost a lot of flesh and bone in this experience, but I've been refueled and refilled with love and titanium."
On April 11, the Disney+ special "Rennervations" – which follows Renner as he travels around the world helping communities transform decommissioned government vehicles to suit their needs – premiered and Renner made his first public appearance since his accident at the Los Angeles premiere, with his extended family by his side.
Ahead, see how stars first reacted to Renner's accident.