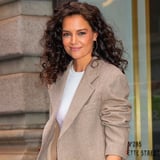 Image Source: Getty / Gotham / GC Images
Amid film premieres and photo shoots, Katie Holmes has quietly been raising Suri Cruise out of the spotlight. Since 2006, Holmes has worked to maintain her 16-year-old daughter's privacy, something many children of celebrities are not often afforded. In her April/May 2023 Glamour cover story, however, the proud mom shared rare comments about parenting, collaborating with Suri on films, and keeping her daughter out of the public eye as much as possible.
"I'm very grateful to be a parent, to be her parent."
"What has been really important for me with my daughter, because she was so visible at a young age, is I really like to protect her," Holmes said of her daughter, who she shares with her ex Tom Cruise. "I'm very grateful to be a parent, to be her parent. She's an incredible person." As a child, Suri was often featured alongside her parents in paparazzi photos, at times hiding her face with her hair to dodge the cameras. Today, little is known about the 16-year-old save for a few fun facts Holmes has shared over the years.
Holmes previously spoke to Town & Country in 2017 about her top priority being her daughter's stability. "This business is so unstable, and you never really know where you're going to be . . . My child is the most important person to me, and her upbringing is paramount to my work right now," she said. "It's very important that I'm present and she has a stable, innocent childhood. I feel so blessed to do what I do, but there's nothing in the world better than watching your child succeed."
In 2020, shortly after celebrating Suri's 14th birthday, Holmes also wrote an essay for Vogue Australia in which she detailed what it was like to experience the COVID-19 pandemic alongside her daughter. "Hobbies such as sewing, painting and writing became new hallmarks of satisfaction and having had time at home to just be. To listen," she wrote. "To live for a moment in time without the pressure of results and instead appreciate the natural rhythms of mother and daughter was the most precious gift."
While Holmes has made a concerted effort to keep her daughter's life private, that hasn't stopped the teenager from following in her mom's footsteps and exploring the entertainment industry. In 2022, Suri sang the opening credits for Holmes's film "Alone Together." Last year, she also sang on the soundtrack for Holmes's film "Rare Objects."
"I hope she always does something on my films. I always ask her," Holmes told Glamour. "But both of those experiences came out of the same sense of what I love about our industry, which is, you have these projects and you become a family with people. And it's this safe, beautiful, creative space. So it comes out of love for me to include someone who I love dearly. That's how I like to work. I like to have that kind of feeling. It was very meaningful to me to have her there, because she's my heart."
In March, Holmes also shared that Suri joined her in a rewatch of "Dawson's Creek," in which Holmes famously played Joey Potter. "During the pandemic, we had a good laugh about it," she told Variety. "It's wild to have a daughter who's almost the same age as I was when I began all this."