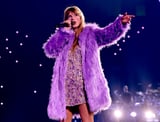 Taylor Swift's Eras Tour set list was never going to be able to include the entirety of her vast catalogue of hits, but the musician seems to be doing her best to give fans of each one of her eras what they want. While she's been largely sticking to the same songs since the highly anticipated tour kicked off in Glendale, AZ, on March 17, she's been peppering her shows with a few changeups and treating fans to two surprise acoustic numbers each night to keep them on their toes.
Swift and her longtime boyfriend, Joe Alwyn, reportedly broke up sometime around when the tour began, Entertainment Tonight reported on April 8. While Swift hasn't commented on the split yet, fans noticed that she switched the song "Invisible String" – which is believed to be about about Alwyn – to "The 1" at her shows in Arlington, TX, starting on March 31.
Breakup speculation aside, fans were always going to be hyper-analyzing Swift's set lists – just like her outfits and her nails – because as we all know, she's the mastermind. Ahead, check out all of the songs Swift has played on her Eras Tour so far, as well as each set list change and surprise track.