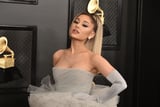 Glinda and Elphaba have arrived! On April 16, the official "Wicked" Instagram (as well as stars Cynthia Erivo and Ariana Grande) debuted the first official photos of the two-part movie's central two witches.
In Erivo's photo, Elphaba is holding a broom while her black cape flaps around her. While she's facing away from the camera, her long, flowing black hair and green skin are visible from behind. The official Instagram captioned the photo with a green heart. Meanwhile, in her photo, Glinda can be seen climbing a staircase wearing a stunning pink ballgown. The photo is taken from a distance, but Grande appears to be sporting blond hair that's pulled back from her face.
Back on March 26, Grande and Erivo teased "Wicked" fans with a joint post on Instagram. The actors posted a carousel of photos featuring the two them showing off the bond they've developed since filming on the movie began. They captioned the pics: "up to (no) good 🫧 🧹."
Now that production on the Jon M. Chu-directed the movie is well underway, the full "Wicked" cast has been announced. In addition to Grande and Erivo, Bowen Yang, Marissa Bode, Bronwyn James, Keala Settle, Aaron Teoh, and Colin Michael Carmichael will all appear in the film. Meanwhile, Jeff Goldblum will be playing the Wizard, a rumor the actor confirmed during his March 2023 appearance on "Jimmy Kimmel Live!."
Additionally, Michelle Yeoh has been cast as Madame Morrible. Yeoh won her first-ever Oscar award at the 2023 ceremony for her role in 2022's "Everything Everywhere All at Once." Chu revealed on Twitter that he texted Yeoh, whom he previously worked with on "Crazy Rich Asians," to ask if she wanted her "Wicked" part.
Back in September 2022, we learned that "Bridgerton" heartthrob and Olivier Award–winner Jonathan Bailey will also appear in the film as the story's main love interest, Fiyero. Chu confirmed Bailey's casting on Sept. 21, 2022, via Twitter. "He's perfect, they're perfect. They'd be perfect together. Born to be forever," Chu wrote. "I am too excited to pretend this hasn't been happening. We have a Fiyero!!!! #JonathanBailey #Wicked."
The cast and crew have been keeping fans updated with exciting announcements since the film was first confirmed. In an April 2022 Twitter post, Chu revealed that they're actually going to split the musical into two films. He wrote in part, "Here's what happened: As we prepared this production over the last year, it became increasingly clear that it would be impossible to wrestle the story of 'Wicked' into a single film without doing some real damage to it. As we tried to cut songs or trim characters, those decisions began to feel like fatal compromises to the source material that has entertained us all for so many years."
He continued, "So we decided to give ourselves a bigger canvas and make not just one 'Wicked' movie but TWO!!!! With more space, we can tell the story of 'Wicked' as it was meant to be told while bringing even more depth and surprise to the journeys of these beloved characters."
Chu added, "Cynthia, Ariana and I – and all the cast and crew – pledge to create nothing less than an experience that honors its foundation for all the fans who've waited for this movie, and to offer a thrilling, fantastical world full of dynamic characters that invites those who are unfamiliar." The director also wrote that the first movie would come out Christmas 2024 and the second would hit theaters Christmas 2025, but the first installment's release date has since been pushed up.
Ahead, find out everything we know about the Wicked films so far, including photos, release dates, trailers, music, and a full breakdown of the cast of characters.