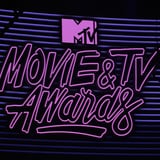 The show will go on for the 2023 MTV Movie & TV Awards, but the award show will no longer be live. On May 5, MTV confirmed the planned telecast would pivot from a live show at the Barker Hangar in Santa Monica, CA, to pretaped acceptance speeches and comedy skits after the Writers Guild of America (WGA) announced plans to picket the event. The WGA is currently on strike as its members fight for fair wages.
"As we carefully navigate how best to deliver the fan first awards' show we envisioned that our team has worked so hard to create, we're pivoting away from a live event that still enables us to produce a memorable night full of exclusive sneak peeks, irreverent categories our audience has come to expect and countless moments that will both surprise and delight as we honor the best of film and TV over the past year," Bruce Gillmer, executive producer of the MTV Movie & TV Awards, said in a statement, per The Hollywood Reporter.
The news that the show will pivot to a pretaped event comes just days after Drew Barrymore announced she would no longer helm the May 7 event, as confirmed by her rep to POPSUGAR. Variety was the first to report the news, noting the decision was made in support of the current WGA strike.
"I have listened to the writers, and in order to truly respect them, I will pivot from hosting the MTV Movie & TV Awards live in solidarity with the strike," Barrymore said in a statement to POPSUGAR. "Everything we celebrate and honor about movies and television is born out of their creation. And until a solution is reached, I am choosing to wait, but I'll be watching from home and hope you will join me. I thank MTV, who has truly been some of the best partners I have ever worked with. And I can't wait to be a part of this next year, when I can truly celebrate everything that MTV has created, which is a show that allows fans to choose who the awards go to and is truly inclusive."
Prior to canceling the live show outright, MTV announced it would not have a red carpet. Additionally, a number of stars, including Jamie Lee Curtis, had already pulled out of the event in solidarity with the writers. "What THESE OLD THINGS? I was GOING to wear something like THESE to THIS YEAR'S MTV movie awards but I'm not gonna be able to go and present because the @wgawest needs and deserves my support and I won't cross their picket line," Curtis wrote on Instagram alongside a photo of herself from a previous MTV Movies & TV Awards show.
The writers strike began this week when members of the WGA, the labor union in which most employed writers in Hollywood belong, stopped working until the organization reaches an agreement with the AMPTP, which negotiates on behalf of all major studios and hundreds of production companies. During this time, no members are allowed to write or sell new scripts.
The MTV Movies & TV Awards will still air Sunday at 8 p.m. ET/5 p.m. PT across BET, BET Her, Comedy Central, CMT, Logo, MTV2, Nickelodeon, Paramount Network, Pop, TV Land, and VH1.