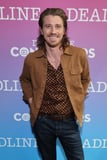 You may recognize Garrett Hedlund from movies and TV series like "The Tutor," "Tulsa King," and "The Marsh King's Daughter," but he's also made headlines in recent years for his whirlwind romance with Emma Roberts. Before the stars got together in March 2019, Hedlund was in a longterm relationship with Kirsten Dunst and Roberts was in an on-and-off relationship with her "American Horror Story" costar Evan Peters. However, when things with their respective partners didn't work out, Hedlund and Roberts soon found love with each other, and in August 2020, the "Maybe I Do" actor announced she was pregnant with the couple's first child. That December, it was revealed she had given birth to a boy named Rhodes.
Hedlund told "Today" in August 2021 that they chose the name Rhodes because he loves traveling. "I thought there was something wonderful within the journey and anticipation and always holding on to your wonderment about something," he said. "My father, before he passed away, we had a three-week road trip and so it was roads. And my grandfather and I used to go on rowing trips, so 'Row' for short, and then Emma and I are avid readers, so Rhodes scholar, but really it's just rodeo."
Although Hedlund and Roberts are no longer together, they continue to coparent Rhodes and occasionally give glimpses of their family life on Instagram. If you want to know more about their journey toward parenthood, as well as Hedlund's past relationships before he met Roberts, then keep reading to learn all about his dating history.