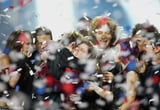 When "American Idol" premiered on Fox in 2002, no one could have predicted the way it would impact culture forever. Of course, there are the most successful winners – Kelly Clarkson and Carrie Underwood – who have shot to the top of the A-List. But many of the series' winners over its 21 seasons have continued to build steady careers. Fantasia Barrino, who won season three in 2004, has joined the cast of the upcoming "The Color Purple" movie musical, reprising the role she first brought to life in her Broadway debut in 2007. And during "American Idol"'s season 21 finale, season two winner Ruben Studdard reunited with his runner-up, Clay Aiken, for a performance with the new final two.
Over the years, the show has been canceled and rebooted on a new network (it moved to ABC in 2018) and 21 idols total have been crowned. While some have had more success than others, these 21 alums have released dozens of singles and albums, starred in Broadway shows, crossed the country on tours, and taken home a slew of awards.
Ahead, here's what every "American Idol" winner is up to now, and all the work they've released since they were crowned.