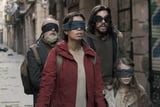 In a competitive era filled with an endless supply of content to stream and places to stream it, Netflix consistently delivers some of the best bundles of new content, whether it be spine-tingling true-crime docuseries, original TV shows, or stand-up specials. Along with its handful of enticing entertainment, the streamer does not fall short when it comes to its movie additions.
Blockbuster classics, belly-laugh comedies, sexy romances, thriller movies, or old-fashioned tear-jerkers are just some of the genres you can expect to find while navigating the platform for the perfect flick. Outside of widespread theatrical releases, you can expand your viewing palette and find a number of captivating films from countries all over the world, from Brazil to Russia.
The year 2023 is bringing plenty of films to the streamer, and what better way to keep track of the latest new titles than through a comprehensive list of new Netflix movies? While the platform's user-friendly interface makes navigation easy, this can serve as a quick means for you to inform yourself of the new titles and add them to your watchlist as soon as possible. Read on to learn all the new Netflix movies hitting the streamer in July, including "Bird Box Barcelona" – a sequel to the fan-favorite, "Bird Box" – and "The Out-Laws" featuring Nina Dobrev, Adam DeVine, and Pierce Brosnan.