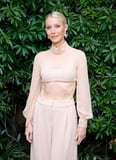 Gwyneth Paltrow may be known for her work as an actor and the founder of Goop, but at the end of the day, she's just "Mom" to her kids. Prior to her relationship with Brad Falchuk, whom Paltrow wed in 2018, the actor was married to Coldplay lead singer Chris Martin. During their 11 years of marriage, Paltrow and Martin welcomed two children together. After publicly ending their relationship, Paltrow and Martin vowed to be the best coparents possible, and from the looks of it, they've done just that.
"It's so interesting because in a way my divorce and my relationship with Chris now is better than our marriage was. So I do think that it can be done," Paltrow told Drew Barrymore during an interview in 2020. "We're all part good and part bad. It's not binary. We're all gray area. We're all trying our best. And I really wanted my kids to not be traumatized if it were possible. Chris and I committed to putting them first, and that's harder than it looks 'cause some days you really don't want to be with the person you're getting divorced from. But if you're committed to having family dinner then you do it. And you take a deep breath, and you look the person in the eye, and you remember your pact and you smile, and you hug and you make a joke and you just re-commit to this new relationship that you are trying to foster."
Paltrow has also been open about how she's enjoyed every chapter of motherhood thus far. "As a mother, I've really cherished every chapter of their lives," she told People in October 2022. "It's funny, I always thought, when they were born I was like, 'It's never going to be better than this,' but then they were 2, and then 5, and every stage I've been like, 'This is better than the last.' And I feel that way now."
Paltrow and Martin don't shy away from showing off their happy family celebrations and how far they've come since separating. They often post about each other on social media, and their children are front and center of their lives. To find more about Paltrow and Martin's kids, scroll through this gallery.