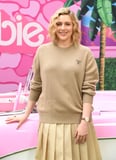 Way back in 2018, Netflix announced that it had nabbed the rights to develop brand new TV series and films based on C.S. Lewis's most revered series, "The Chronicles of Narnia." A year later, the streamer announced that "Coco" scribe Matthew Aldrich would be overseeing all the live-action adaptations, but there hadn't been any other major news about the series since. But in a July 3 article, the New Yorker reported that Oscar-nominated director Greta Gerwig will be directing "at least two" Narnia movies for Netflix. They didn't share details of those films, and Netflix did not immediately respond to POPSUGAR'S request for comment.
Lewis ultimately published seven novels during the 1950s in the Narnia series. They follow four siblings – Peter, Susan, Edmund, and Lucy Pevensie – who find the magical world of Narnia at the back of their wardrobe and go on to have fantastical adventures. Perhaps the most memorable Narnia resident is Aslan, the great lion, who Lewis wrote as a form of Jesus Christ.
"The Chronicles of Narnia" has been adapted for TV multiple times, including in a 1979 animated cartoon series and a live-action series from the BBC that aired between 1988 and 1990. In 2005, "The Chronicles of Narnia: The Lion, the Witch and the Wardrobe" was released in theaters, the first in a new series of films. The story continued in 2008's "The Chronicles of Narnia: Prince Caspian" and 2010's "The Chronicles of Narnia: The Voyage of the Dawn Treader," but the production company ultimately lost the rights to Netflix and abandoned plans to adapt the series further.
As for Gerwig, she currently promoting the highly anticipated "Barbie" film, which is her third solo directing credit. She also wrote and directed 2017's "Lady Bird" and 2019's "Little Women," which, like Narnia, is an adaptation of a beloved novel. She is also co-credited as a writer on Disney's upcoming live-action "Snow White."